Monday, August 28th, 2006
Celina boys edge Findlay for Rotary Invite title
By Gary R. Rasberry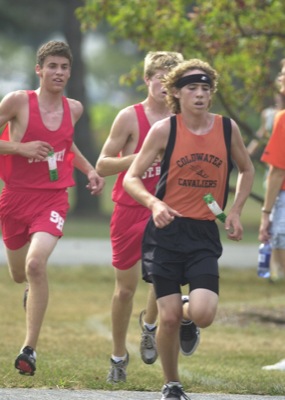 The area cross country season got underway on Saturday as area teams split their starts at two big meets.
Celina hosted the annual Rotary Meet at Wright State University-Lake Campus, bringing in top teams from Ohio and Indiana.
The Bulldog boys came up big in winning the Division I race as Celina edged out Findlay, 45-46, to capture the team title. Oregon Clay was third with 53 points.
Isaac Niekamp was the first Celina runner across the finish line, taking third with a time of 18:14. Chris Johnson was close behind in fifth at 18:34 with Luke Bonvillian taking ninth. Andy Goodwin was 11th with Peter Starnes, Dan Stose and Nick Siebert taking 17th, 18th and 19th for the Bulldogs. Eric Ballinger took 21st with Eric Adams 24th.
In the Division I girls, Celina placed fifth overall with 97 points. Clay took first with 45 with Jay County second with 68, one ahead of Findlay's 69.
Melissa Roth paced the Runnin' Women with a third-place effort while Heather Petrie was 11th and Beth Secrest 24th.
A number of Midwest Athletic Conference teams competed in the Division II-III races. In the boys meet, St. Henry placed second with 84 points behind Indiana-power New Haven. New Bremen was third with 112 with Coldwater seventh and St. Marys 10th.
The Cavaliers took the top two places in the race as David Wilker got his season started right with a win in a time of 16:57. Teammate Dusty Kuess was second at 17:36. The St. Henry tandem of Doug Ranly and Dan Rex captured third and fourth in the race while St. Marys' Jason Durkee placed sixth. Tony Kremer led New Bremen with a 13th-place showing with teammate Jeff Kremer taking 17th.
In the girls race, Coldwater battled with Fort Loramie for the top spot, but in the end it was the Redskins who took first with 86 points followed by Coldwater's 95. Fort Recovery was fourth, New Bremen fifth, St. Henry sixth and St. Marys seventh in the standings.
Former state cross country champion Sarah Schulze of Anna, a recruit for basketball at Ohio State, took the race in 20:09. Mindy Vogel of Fort Recovery was second at 20:16 with teammate Tina Roessner taking fifth at 21:22.
New Bremen's Amber Niekamp was ninth overall with Coldwater's Ashley Kanney taking 11th. Coldwater's Allison Honigford was 14th with New Bremen's Lori Timmerman taking 15th. Kendra Delzeith was the first St. Henry runner across taking 17th while Ashley Bubp led St. Marys with a 27th-place showing.
In the middle school two-milers, Coldwater captured the girls title over Clay. Larissa Kohn led Coldwater with a second-place showing. Clay took the boys title, but St. Henry's Mitchell Schulze won the race.
Coldwater will take over as host of the Mercer County Invitational this season, which takes place on Tuesday starting at 4:45 p.m.

Wildcats sweep the Schul
While most of the MAC teams were in Celina, the other portion headed to West Milton to run the Bob Schul Invitational.
Minster started its season by sweeping the Division III titles on Saturday.
The Wildcat boys took its title with a score of 46 points, 31 ahead of Lehman's second place showing of 77 points. Marion Local was fifth with Versailles taking sixth in the race.
Joby Stechschulte and Kregg Olding paced the Wildcats by taking second and third in the race while teammate Troy Niekamp was 12th. Ian Nisonger led Versailles with a 13th-place finish while Jordan Schmackers was the first Flyer to cross in 17th.
The girls race ended with a 1-2-3 MAC finish as Minster scored an impressive 19 points to win. Versailles was second at 44 while Marion Local took third with 114 points.
The first eight finishers were either Minster or Versailles runners. Minster's Bernadette Burke edged out Versailles' Mary Prakel by two seconds to capture the race in 19:36. Minster then took the next five placements. Brigitte Sherman (third), Jenna Fausey (fourth), Lauren Fausey (fifth), Lei Bornhorst (sixth) and Jessica Albers (seventh) were followed by Versailles' Caitlin Liette in eighth. Troy Christian's Jessica Brant was the first non-Minster/Versailles runner to cross the finish line in ninth.
Emily Wuebker paced Marion Local with a 20th-place showing. Stacy Evers (22nd) and Kristen Homan (23rd) were the next two Flyers to cross.
Minster also took the girls middle school race with 19 points as Averie Bornhorst won the individual portion in 12:30.