Thursday, August 31st, 2006
Battle of Grand Lake comes early
By Ryan Hines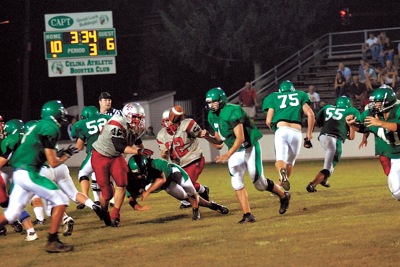 It has been seven long years since Celina has beaten St. Marys in the annual Battle for Grand Lake gridiron showdown.
In fact, the last coach to guide the Bulldogs past the Roughriders was Jerry Harris in 1998. Harris is back for his second tenure with the Bulldogs this year and is looking to put Celina on the winning side of things.
While Harris knows the importance of this matchup between the two communities, he also warns that maybe too much emphasis is placed on the result of this week two contest.
"Having already been through it, it's most important to the fans on both sides," pointed out Harris. "I don't want to downplay this game, but our kids are just worried about getting better and keeping their jobs. I hope it's not as important to the coaches and the players because if we win this week and then would lose next week, we're still 1-1 over the two games. Our mindset should be the most important game is the one in front of us."
St. Marys head coach Doug Frye, who has lost only once against Celina in eight years at the helm of the Roughriders, isn't afraid to talk up the rivalry while comparing it to some of the best in all of football.
"This game is like Michigan-Ohio State or USC-UCLA or high school football," said Frye. "It never matters what happened last year, the last several years or what happened last week. In a game like this where both teams are playing hard, it's all about what happens on the field that day."
Frye's Roughriders (1-0) have won the last seven matchups in this annual series and will be the heavy favorites again this week as one of the contenders for the Western Buckeye League crown.
St. Marys, as always, will focus its attention to the running game - generating a running game and stopping the opponents' running game - from its wing-T offensive set. And the Roughriders have plenty of capable hands to carry the football again this year.
Koby Frye, the WBL's rushing champion as a sophomore last year, is the featured back from the tailback position along with another experienced runner in Scott Laman. Kenny Bruce also gives the Roughriders a threat in the backfield from the fullback position while junior Derek Dunlap is a versatile athlete as a quarterback.
"They have better skilled position players than we have right now," admitted Harris. "They're bigger and stronger on offense and more experienced on defense. We must stop their running game and be able to run on them, the problem is, not many teams stop their running game and are able to run on them."
After a 28-14 win last week over Sidney, St. Marys showed its improvement over the past several weeks according to coach Frye.
"The thing that I like most about our team right now is the way that we've improved from the second scrimmage to the first game," said Frye. "What we have to do now is make sure that we keep improving with each practice and each game the rest of the way. I think that if we do that, we'll be a good football team."
Harris has also liked the improvement made by his Bulldogs ever since the second scrimmage in the preseason along with the way attitude of the team following last week's last-play loss to Lima Senior.
"Kids were ready to go again in practice and in films they were ready to learn and get better," said Harris. "It was a business-like atmosphere this week. The kids bounced back quickly and want to get better. We've made some improvements in a lot of areas since our second scrimmage, we just have to solve the breakdowns that we have on each play and just do things better and more consistently."
Sophomore quarterback Derek Gagle will spearhead the Celina offense after a promising debut against Lima Senior a week ago. Gagle threw for 111 yards and a touchdown on 7-of-14 passing.
Celina did show an ability to be balanced on offense, but it's consistency that's keeping the Bulldogs back according to Harris.
"We did show an ability to be balanced on offense in some situations, now we just have to be more consistent and once we do that, we'll be a good football team. We're heading in the right direction and I'm optimistic that we'll be better this week," said Harris. "St. Marys epitomizes the way I want our team to be. St. Marys doesn't do much different, but the things they do, they do them well."
Stu Amstutz, Matt Paulus and Zach Sams give Gagle some athletic targets to choose from while Scott Felver looked good running the ball a week ago.
The Bulldogs will have several new roles to fill after a senior quit the team on Monday leaving vacancies on offense, defense and special teams.