Friday, August 4th, 2006
Mariners win game on wild pitch
By Ryan Hines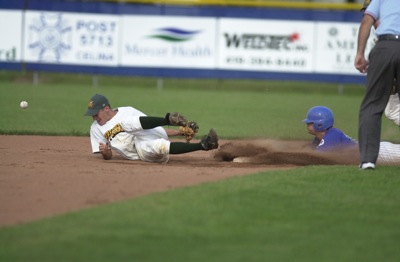 Aggressive baserunning and strong pitching kept the Grand Lake Mariners in the Great Lakes Summer Collegiate League tournament winner's bracket on Thursday at Jim Hoess Field.
Grand Lake scored the winning run in the bottom of the 10th inning on a wild pitch while Brenden Stines and Adam Abraham kept the Southern Ohio bats in check for a 2-1 Mariners victory.
The Mariners now play Lima today at 4 p.m. at Shawnee Field in the winner's bracket final with the winner reaching the championship game to be played on Saturday. The loser of the Grand Lake-Lima matchup comes back at 7 p.m. and will have to face the winner of Delaware and Granville, a game that's being played at 1 p.m. today, also at Shawnee.
"We've been playing good ball for the past two weeks and then some, but we've got a few balls to bounce our way too for the second straight day," said Grand Lake manager Scott French. "This was your traditional tournament type of baseball game that was played tight on both sides."
With two outs in the bottom of the 10th frame and runners at second and third for Grand Lake, Southern Ohio relief pitcher Jimmy Kelly uncorked a wild pitch allowing Anthony Hayes to race home with the winning run.
"Frenchie told me to be aggressive if the ball got in the dirt and once it hit the dirt and bounced away far enough where I thought I could get home, I took off and made it safely," said Hayes, who's one-out single got the 10th-inning rally started.
"With two outs, you're more inclined to take a chance in those situations, but Anthony was on his own there and he made a good read and scored the winning run by making an aggressive play," said French.
Hayes' game-winning run made a victor out of Adam Abraham who threw three strong innings of relief on the mound. Abraham, who started the game in rightfield, entered the game in a jam for Grand Lake in the eighth inning.
Brenden Stines threw seven strong innings in his start for the Mariners, but seemed to fatigue in the eighth inning issuing a walk and a double to put the go-ahead runs at second and third with no outs.
French called on Abraham out of rightfield and got one out on a great diving stop by Derek Martin at third base before intentionally walking Southern Ohio's David Rubenstein to load the bases. Abraham then got the result he needed as Southern Ohio's Kevin Winn grounded into a 6-4-3 double play which sent the Mariners players into a frenzy.
"Adam has experience in those situations when he was at Michigan in the spring and I have all the confidence in the world in that guy," lauded French. "He doesn't need to warm up prior to coming because his eight pitches when he gets in there are enough to be ready to go and that's a huge advantage to have a guy like that available."
"Fortunately, I've been in these types of situations before and the key is to throw strikes in that situation and keep the ball low," said Abraham. "My stomach was churning a little bit, but I got a ground ball and my teammates made the play behind me to get us out of the jam."
It wasn't until the 10th inning, though, that the winning run came around for Grand Lake.
Hayes' one-out single was followed by a deep double to centerfield by Brooks Hunton that put runners at second and third. After the second out was recorded, Kevin Cislo stepped into the batter's box and had a two-strike count on him when the wild pitch ended the tight matchup.
"This win is huge that way we didn't have to play two games tonight and dip too deep into our pitching staff," said French.
NOTES - Stines was sharp in his seven innings of work allowing just one unearned run on five hits with four strikeouts while Southern Ohio starter Ben Buchanon allowed one unearned run on just three hits with 10 strikeouts and one walk. ... Should Grand Lake reach the championship game on Saturday, French will not be there to manage since he's participating in the Area Code Games in Long Beach, Calif. The Area Code Games brings the top 200 amateur (high school) baseball players in the United States to California for games where they are split up by region. French is participating as an assistant coach for a Midwest team.