Friday, September 8th, 2006
Big love
By Shelley Grieshop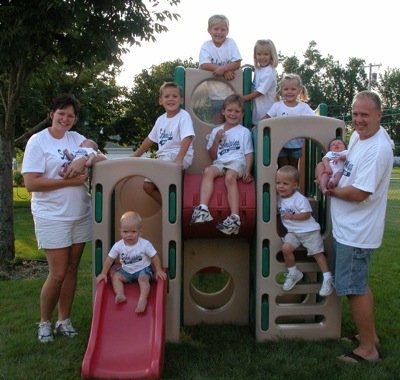 MINSTER - Emma and Alice Schmiesing dance around their backyard, amusing their parents by singing a very homemade love song.
"M-o-m, D-a-d, K-i-s-s-i-n-g," the 6-year-old twins spell out loudly before letting out a chorus of giggles.
Love and affection, as their song implies, are plentiful in the family's North Hanover Street home, and so are children. Three weeks ago, John and Jamie Schmie-sing became the proud parents of a third set of twins, Frank and Rose. The Schmiesings refer to their nine children - ranging in age from 6 on down - as a blessing.
"Everyone thinks we're crazy," says Jamie, as she gently rocks her newest babes in a stroller on the patio. "We get our share of comments."
In a country where the average number of children per family is a fraction above two, the Schmiesings are indeed unique. And with three sets of twins, they've risen far above the norm (odds are 1 in 500,000).
After failing to get pregnant for nearly five years, Jamie took fertility drugs and gave birth to her first children, Alice and Emma, in 2000. She has not taken the drugs since.
"The doctor told me once you have twins, you're more likely to have twins in the future," she says, adding that multiple births are not found in their family tree.
The medical explanation is that women who conceive twins sometimes continue a pattern of releasing more than one egg per menstrual cycle.
Caring for nine young children - four in diapers - may seem a monster task to most folks, but the Schmiesings appear to have mastered the art while keeping their sanity. And they've hinted they're not done yet.
"We've got enough for a softball team but eleven (children) would make a football team," jokes dad, an avid Chicago Bears fan.
Loading up their 15-passenger van for a trip to the store resembles a strategic military move; six children still require car seats. An evening walk looks like a small parade.
The children tend to keep each other amused and the family gets an extra hand at times from Jamie's mother.
"Mom helps a lot, she's used to the chaos. She pops in and out, asks if I need anything from the store and holds a baby or two for a while," she says.
The couple recently moved to a new home just a few blocks from the elementary school. Emma and Alice attend first grade and 5-year-old Sam goes to kindergarten. Now with four bedrooms instead of three, a large kitchen that accommodates a conference-size table and a much-needed living area in the basement, life is a little easier.
John works a full-time weekend shift at Crown Equipment Corp. and is a substitute bus driver for Minster Local Schools. Jamie is a licensed practical nurse who hopes to return to a short shift one day a week while her husband tends to the family.
When asked about the day-to-day job of raising such a large family, the couple flash grins at one another.
"The best part of the day is all the laughter. There's just constant action. We wonder what we did without kids, we must have been lazy people," Jamie says.
About a month ago, the couple escaped for a rare dinner date.
"It was nice watching other people and their kids and not having to pick up forks and Cheerios from the floor," Jamie says with a laugh.
Outsiders have questioned how the couple can adequately divide their love among so many small children. John, who hails from a family of 12, quickly replies with a quote he borrows from a "Family Circus" cartoon clipping and given to him by his father:
"I don't divide it. I multiply it," he reads aloud, then heads back to 2-year-old John, who eagerly awaits a gentle push on the backyard swing.

Did you know?:
• The number of multiple births in America is higher than in any other country in the world and has quadrupled since 1980.
• Twins occur in about every 35 births, with more than 57,000 sets born each year.
• Slightly more than half of all twins are males.
• In the United States, about one-third of twins are identical, one-third are same-sex fraternal and one-third are boy/girl fraternal.
• Average birth weight of twins is 5 pounds, 5 ounces. The most recent Schmiesing twins weighed in at 8 pounds, 7 ounces (Frank) and 6 pounds, 9 ounces (Rose).

- The National Organization of Mothers of Twins Clubs