Tuesday, September 12th, 2006
For the people (who serve) By the people (who say thank you)
By Margie Wuebker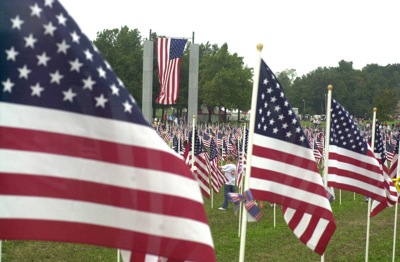 MARIA STEIN - Jenna Watercutter, a seventh-grader from St. Henry, knows all about heroes.
There are three in her family, grandpa Albert Steinbrunner, uncle Vern Steinbrunner and cousin Matt Galdeen, she says while visiting the West Ohio Healing Field on Monday.
The field of more than 3,000 American flags, set up in honor of military personnel, firefighters, law enforcement officers and medical services personnel, opened to the public on Saturday. More than 12,000 students, ranging from first-graders to high school seniors, are expected during the final two days of the observance, which concludes at 5 p.m. today.
"The best part of coming here was finding their flags in the field," Watercutter says. "Heroes are people who fight to guarantee our freedom in places like Iraq."
The flags erected in what was once a wheat field honor those people who give of themselves in the interest of others.
Angel Lucas, an 11-year-old student from West Elementary School in Lima, needs no dictionary to look up the meaning of a four-letter word spelled h-e-r-o.
"A hero is a helper," she says. "A hero does things for others. A hero does not sit back and wait for somebody else to do it."
She considers her parents heroes not to mention a host of giggling friends heroes.
While the flag display is impressive, her favorite part of the visit was seeing all the guns in the Museum of the Soldier situated on the ground floor of the Spiritual Center.
Teachers and administrators believe youths will come away from the Healing Field with a greater appreciation for people who give of themselves in the interest of others.
"Our students will leave here today with a greater love and appreciation for what America stands for," says Nancy Knapke, Fort Recovery elementary principal. "I know I will."
Fifth-graders from Fort Recovery presented a musical program directed by Jayne Evans. The patriotic music, coupled with the personal philosophy of students and vocal solos by Kristen Evans, drew hundreds of visitors to the large entertainment tent.
The students all wore white T-shirts bearing the theme "The Spirit of America." Student Hannah Bihn submitted the winning design showing a eagle with an American flag amid a field of bright yellow stars.
Ashley Homan tells the audience "It takes tender, loving care to be a hero. Heroes walk among us and people still live free."
Kinsey McEldowney, also of Fort Recovery, is thankful for people who put their lives on the line for others. She believes the sacrifices of brave men and women will make her dream - a world without war - come true.
As fourth-graders, Fort Recovery students typically present a "fun" musical in the spring, according to Knapke. They decided on a serious program with a patriotic theme and photographs of local heroes. Jayne Evans later contacted Healing Field organizers who quickly accepted the offer to perform.
Tory Jones of Minster walked around the grounds with a look of amazement on his face. Jones, who joined the U.S. Marine Corps June 1, is headed to Iraq after completing advanced infantry training in North Carolina.
Pausing on a knoll overlooking the flag-filled field, he saluted the banners marked with yellow ribbons denoting active military personnel and flags with red, white and blue ribbons denoting veterans.
"This is a truly amazing event, ma'am," he says quietly. "The support being shown here is phenomenal. You can take American flags and set them in a field but the meaning is lost if people don't come. Standing here and seeing all the support truly makes me proud to be an American."