Saturday, September 16th, 2006
Coldwaer erases early deficit with Slavik's passing
By Gary R. Rasberry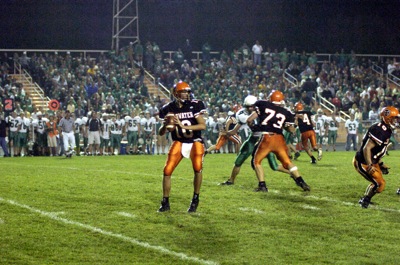 COLDWATER - After finding themselves in a spot rarely seen the last few years, Coldwater had two choices after falling behind 13-0 in the first half of the first quarter.
They could panic and throw the playbook out the window, or they could keep calm and get hot.
The Cavaliers stayed calm, and got hot.
Thanks to a spectacular throwing night by Sam Slavik and racheted-up defense, the Cavaliers scored 28 unanswered points on the way to a 35-19 win over Anna on Friday at Cavalier Stadium.
The win extends a home-winning streak to 30 games - the last home loss coming in 2001 in the season opener against Kenton - and a regular season winning streak of 25 games. Anna, coming off the big win over Versailles last week, goes to 2-2 overall and 1-2 in the MAC.
After a quick first strike thanks to a 57-yard touchdown pass from Kyle Muehlfeld to Bryant Bensman and a six-play drive covering 87 yards that ended with Sean Stewart punching it in from three yards out, Coldwater looked for motivational words from the coaches.
"We told them to hold together," said Reed about some of comments to the team. "If we're going to be a team of character, your character's got to take you through tough times, even if it would have led to a loss. Life isn't all about winning. We've been blessed to have a string (of wins) going. You have to be prepared."
The Cavaliers began to turn things around on the ensuing drive as Slavik drove the Cavaliers 73 yards on 11 plays. Anna shut down Tony Harlamert and the running game, but could not find a container for the passing game. Slavik threw six times on the drive, finding Harlamert for a 16-yard pass that went for six to put he Cavaliers on the board.
That gave the defense a boost, holding Anna to two straight three-and-out possessions. Matt Hoyng returned the second punt to the Anna 14. After moving back two on the first play, Slavik found Harlamert again for a 16-yard score. Mario de la Rosa booted the extra point to give the Cavaliers the lead.
The Coldwater defense held Anna to another three-and-out, giving Slavik another chance. Slavik drove the team down the field to the 14 before finding Harlamert again for the touchdown to make it 21-13.
"It was almost like after (Coldwater) got up 14-13, our guys had a little bit of a letdown," said Anna coach Bryan Rioch. "We didn't quit."
After a scoreless third, Coldwater added what looked to be the back-breaker when Slavik hooked up with Matt Hoyng for a 56-yard score with 9:14 left in the game to make it 28-13.
Anna, however, kept fighting. Muehlfeld, found Mark Bensman for a 76-yard pass play that went into the end zone. A two-point try failed, making the score 28-19. The on-side kick try by Zach Clark also didn't work.
Coldwater tacked on its only running touchdown in the final minute with Ty Kunk punching it in from a yard out. Muehlfeld moved Anna down field for a late scoring try, but Cory Klenke picked off the pass with 22 seconds remaining at the Coldwater 1.
Slavik had plenty of weapons to throw to, completing passes to nine receivers. Slavik was 31-of-46 in the game for 422 yards and four touchdowns.
"Sam's a warrior," said Reed. "No question about it. He seems to step up in the most difficult times. There were a couple key third-down situations where the pressure was on him. He stood in there and found the open receiver and made big plays. That's what our offense is about."
"(Slavik) is a great player," said Rioch of Slavik. "Our kids could not get any pressure on him. ... He's a first-year starter, but doesn't act like it. He's phenomenal. Our defensive coaches did a good job. They were bringing pressure, dropping guys. Unless they allow us to play with 13 guys, I don't know if we could compete with them all night."
Slavik was not sacked in the game thanks to a solid effort by the offensive line that allowed for plenty of protection, something that both Reed and Rioch noted in post-game comments.
"Their offensive line gets all the credit," said Rioch. "We could not get close."
"The offensive line has held together all year," said Reed. "They drive the guys. We had 80 plays tonight. That's a lot of plays in a high school football game. Give Anna credit, they brought it every down. It was an outstanding football game"
Muehlfeld also had a solid game passing, going 13-of-21 for 291 yards and two touchdowns. Tight end Kreg Elsass had four catches for 99 yards in the game.
Zach Kaup, who got extra playing time with Ryan Geier out from a broke collarbone, made five catches for 101 yards. Harlamert, held to just 32 yards rushing, had seven catches for 65 yards with three touchdowns.
Coldwater now travels to St. Henry, the top-ranked team in Division V, next week for the annual Backyard Battle. Anna hosts Fort Recovery next week.