Saturday, September 2nd, 2006
Defense paves the way for St. Marys win
Roughriders beat Celina for eighth straight time
By Ryan Hines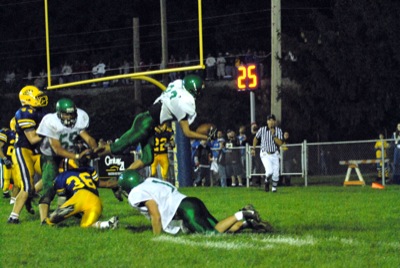 ST. MARYS - A ball-hawking defense set up St. Marys' first two touchdowns and the Roughriders ran out to a 21-0 lead before settling for a 21-8 win over Celina in the Battle of Grand Lake on Friday night at Skip Baughman Stadium.
The Roughriders, now 2-0 on the season and 1-0 in the Western Buckeye League, have now won eight straight in the rivalry and 16 of the last 21 while Celina is 0-2 overall and 0-1 in league play.
"It always feels great to beat your rival in your own stadium," pointed out St. Marys head coach Doug Frye. "We're not a good football team right now, but we're doing it in spurts right now."
The Roughriders got some help midway through the first quarter to scratch the scoreboard first. Celina quarterback Derek Gagle was trying to pitch on an option play, but was hit and the ball was jarred loose and recovered by St. Marys. The first three plays netted just six yards but St. Marys quarterback Derek Dunlap hit Scott Laman on a fourth-and-four situation with a four-yard pass and a first down at the one-yard line.
Dunlap hit paydirt with a quarterback sneak for the final yard putting the Roughriders on top 7-0 following Doug Burke's PAT kick.
Celina's defense made drastic improvements from last week's loss to Lima Senior and held St. Marys scoreless the rest of the first half while limiting the Roughriders' ground attack to just 47 yards on 20 carries with just three first downs.
"We played an outstanding game on defense," said Celina coach Jerry Harris. "I was tickled to death the way that we played defensively. We're just not up to snuff on offense yet.
"We made enough mistakes in the first half where we should have been down 21-0," added Harris. "We were delighted to only be down by seven points at halftime. We're maturing quicker on defense than we are on offense."
Midway through the third quarter, the Roughriders' Mitch Dunlap collected his second interception of the game giving St. Marys the ball at the Celina 32-yard line. Facing a fourth-and-one situation at the eight-yard line, Derek Dunlap again used a quarterback sneak to give the Roughriders a new set of downs. Laman capped the eight-play drive with a one-yard plunge into the end zone for a 14-0 Roughriders lead.
St. Marys struck again at the 3:12 mark of the fourth quarter when Kenny Bruce broke through the middle and outran the Celina defense for a 31-yard touchdown giving the Roughriders a 21-0 lead.
Celina went with a hurry-up offense and scored a touchdown on their final drive of the game, still against the St. Marys number-one defense.
Gagle completed 4-of-5 passes on the drive, including a beautiful toss over the shoulder of Zach Sams for a 22-yard score. Sams also scored the two-point conversion for the Bulldogs with a end around while diving over the goal line.
Other than the final drive, the St. Marys defense made it difficult on Gagle and the rest of the Celina offense. Gagle was just 7-for-20 with two interceptions before the final drive. The running game was nearly nonexistent with 26 rushes for 45 yards (1.7 yards per carry).
"We need more help from our offense," said Harris. "Our problems tonight had a lot to do with a good St. Marys team, but we're having growing pains on offense. We can't move people on offense and that's our major problem."
"Defensively, I thought that we played awfully well, at times," said Frye. "We gave up a score late and we just have to learn to finish the game off. We gave them a bunch of different looks and they have a young quarterback so we wanted to give him a bunch of different looks. We wanted to rush from different edges and mix up our coverages, that was the key for us tonight."
St. Marys was led by Bruce who carried the ball 17 times for 89 yards while Laman added 17 rushes for 64 yards. Koby Frye, who led the WBL in rushing last season with over 1,300 yards, was limited to just 34 yards on 10 totes.
Celina is back at home for week three taking on Van Wert while St. Marys travels to Defiance.