Thursday, September 21st, 2006
Cavaliers, Redskins prepare for the Backyard Battle
By Gary R. Rasberry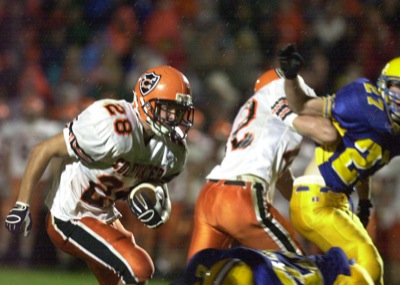 The annual Backyard Battle between Coldwater and St. Henry returns to the Wally Post Athletic Complex with a scenario much like the meeting in St. Henry two years ago.
Both teams come in undefeated on the season with matching 4-0 records and perfect conference marks. Both are highly rated in The Associated Press football poll and both are looking to take first place for themselves in the Midwest Athletic Conference.
But for the Redskins, the top team in the Division V poll for a second straight week, the game is one where some demons are in need of exorcising.
The last time the Redskins beat the Cavaliers was in the 1996 season, a 26-19 overtime win that kept the Redskins perfect on the season en route to the Division VI title game, where they lost to Mogadore in triple overtime.
It's a series that the Cavaliers have dominated since the first meeting back in 1973, holding a 22-10-1 advantage.
Two years ago, Coldwater came in and shut out the Redskins 28-0. St. Henry, however, got the last laugh, winning the Division V state title while the Cavaliers saw their season end in the state semifinals against Versailles.
This week, the coaches at St. Henry are treating it like a regular week, with just a few tweaks.
"It's kind of in-between," said St. Henry head coach Jeff Starkey. "Level of intensity is a little bit higher than last week (against New Bremen). In the same sense, really you're just playing another football game on Friday night. Everything else you have to black out and prepare yourself to play football on Friday night at 7:30 p.m."
Coldwater, ranked second in Division IV again this week, is coming off a comeback win over Anna after trailing 13-0 midway through the first quarter.
Sam Slavik threw for 422 yards and four touchdowns as Coldwater came back to win 35-19. The game allowed Slavik to go over the 1,000-yard mark on the season and raise his completion percentage - after a 31-of-46 effort - to near 64 percent.
"He's a very poised player. He doesn't look like a first-year starter out there," said Starkey. "He can attack all the different zones of the field. They're just another good football team for Coldwater. They average a lot of plays per game and a lot of yards per game."
The Cavaliers will have a key cog missing as Ryan Geier is likely out for the regular season after breaking his collarbone making his only catch of the game in the first half a week ago. Geier, the leading receiver, defensive back (with three interceptions) as well as team punter, will be missed. Also missing for the Cavs is linebacker Joe Wermert, who may be out for the season after a knee injury.
Coldwater does have plenty of depth at the receiver and secondary spots to fill Geier's absence. Zach Kaup had 101 yards receiving in getting additional playing time when Geier went out last week. Matt Hoyng and Justin Gray will also see their looks increase this week and Dusty Rutschilling, who has been a stalwart on defense, will get some calls to play receiver. Sophomore Cory Klenke will be the likely choice should the Cavaliers have to punt.
"On Monday we were like the Marines: We were looking for a few good men," said Coldwater coach John Reed about filling Geier's spots. "Some young guys are going to have to step up here. Zach is one of those guys and obviously Cory has gone out there and done a great job for us playing receiver. Dusty will have to step up and play receiver for us. It's just a matter of those young guys saying 'Okay, it's our turn.' We have to do the best we can with the abilities we have."
Tony Harlamert also poises a multiple threat for the Cavs. The sophomore is third in the area with 400 yards but has been a solid target for Slavik to throw to as well. Harlamert snared three straight touchdown catches last week against Anna and has 213 yards receiving on the season.
The depth of the Cavaliers' offense will be a concern for the Redskins.
"They can only play with five (receivers). You don't have to play all nine at once," said Starkey. "You just have to be disciplined. We're not a man-coverage team. Never has been a secret to anyone. You have to be disciplined, play your zone and cover the person in your zone.
"They have good personnel again that play hard and play fast," said Starkey. "I've been real impressed with their defensive line."
The Redskins also know how to throw. Quarterback Doug Griesdorn has the best efficiency in the area with a QB rating of 207.83 in throwing for eight touchdowns and 638 yards on just 51 attempts - 30 completions- on the season.
Senior Ryan Hartke leads the area in receiving with 326 yards on 13 snags and five touchdowns. Zack Thobe (eight catches for 184 yards) and tight end Jon Clune (three catches for 55 yards) are also big threats when Griesdorn throws the ball.
Running back Andy Puthoff has been strong all season. The 2005 All-Ohioan leads the area with 472 yards rushing and shares the area lead with seven touchdowns.
"I think balance, that's the thing to me (that was noticed)," said Reed. "When we were in the playoffs last year, there were teams we played against that were good in one phase of the game, but nobody really brought the balance where they could threaten you in a number of different ways. That's what I see in St. Henry. They have that balance and that ability to threaten you in a lot of different ways.
"They run the ball in different ways and pass the ball in different ways. That really creates a tremendous problem, much like we did for people last year," added Reed.
Both team's defenses have been solid.
After the 13 quick points last week, the Cavaliers held Anna to just six the final 411/2 minutes. Sophomore linebacker Adam Homan has 44 tackles on the season, drawing comparisons from Anna coach Bryan Rioch to a former Cavalier linebacker, Adam's older brother Ross. Fellow linebacker Adam Hoying adds 25 tackles and a team-high three sacks.
St. Henry has two straight shutouts after allowing just 21 points the first two games. Defensive lineman Matt Thobe has two touchdowns on defense this season to go with 40 tackles and four sacks. Josh Werling will provide a big challenge to any Cavalier receiver near him as he has two interceptions.
"They're just so sound," said Reed. "They just are going to dominate the line of scrimmage and dare you to run the ball. When you have to throw the ball, they'll set their ears back and make it difficult for you."