Monday, September 25th, 2006
Riethman shines in taking top honors
Coldwater junior wins tournament; Minster edges Cavaliers for team title
By Gary R. Rasberry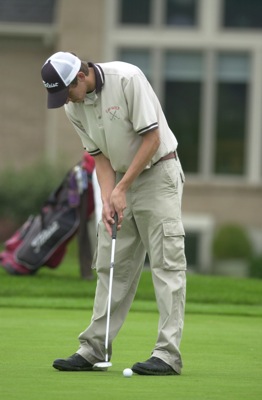 A year after missing out on the Midwest Athletic Conference's top honor for boys golf, Kurt Riethman wanted to make sure that he did all he could to win the honor this year.
The Coldwater junior capped off a spectacular year by winning the MAC boys golf tournament on Saturday at The Fox's Den in Celina, posting the only below-par score of the day with a spectacular 3-under 69 on the par-72 course. The score was eight strokes better than the next-best score of 77, shot by teammate Seth Kahle.
"I played pretty well today," said Riethman. "I was hitting all my clubs solid. I was fortunate enough to score low.
"I was surprised a little bit, but I've played well all week."
The Riethman-Kahle 1-2 finish for the Cavs was a perfect ending to their play in dual matches this season. The pair usually finished 1-2 in the medalist standings during matches this season, which computed points toward the Player of the Year standings.
To show the dominance that Riethman had this season. Out of the possible 156 points that could be earned, Riethman took top honors with 155.5 points. The half-point came when Riethman and Kahle tied for medalist honors in one match earlier in the season.
"I was playing well the last two weeks," said Riethman. "I wanted to come back this year and come back strong in trying to win Player of the Year."
"He did improve. His highest round this year was a 39," said Coldwater coach Jack Mescher. "He shot a 34 this year and a 69 today. That tells you what kind of player he has become. He's the most consistent golfer I've seen and he has another year to go."
Kahle was the runner-up for the MAC Player of the Year award with 146.5 points while Brad Wannemacher of St. John's was third with 144.5 points.
"I really expected Seth and Kurt to go back and forth," admitted Mescher. "To have two players like that on the same team is great. Seth pushed Kurt. That made a big difference."
In the team standings, it came down to Coldwater and Minster for the team title of the tournament. Coldwater had all its scores in early and was watching closely on Minster. With one golfer's score remaining, the teams were tied. When Evan Lee's score of 79 came in, Minster took the tournament with a round of 321, three less than Coldwater's 324. St. Henry took third with a 339 with Versailles two shots off at 341.
Lee's 79 was complimented by an 80 by Ben Hogenkamp and a pair of 81s from Jimmy Stechschulte and Tony Weaver. Brad Borcher's 82 was good for a top-10 finish even though it wasn't needed for the Wildcats' scoring.
"They played well and traded rounds and had good stuff today," said Minster co-coach Aaron Homan.
"We have depth," chimed in fellow co-coach Mike Griner. "The last two years we've been able to go 5-6 deep. With Riethman and Kahle having fantastic rounds, it's good to have four people shoot consistently right around that high-70, low-80s mark."
"Minster had a little more depth than us," said Mescher. "It was pretty close in there until the end. We're really proud of the boys. They did a good job this year."