Thursday, September 28th, 2006
Get on the ball and be healthy
By Margie Wuebker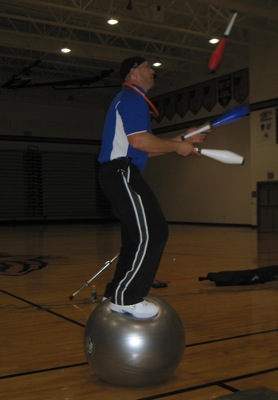 MINSTER - Jim Steffen, who calls himself America's fun fitness coach, believes the time has come for everyone - young and old alike - to adopt healthy eating patterns along with a regular exercise program.
Steffen, an author, speaker and personal trainer from Findlay, entertained families attending a Wednesday night program at Minster Middle School.
He offered statistics that raised some eyebrows during the "Fit to Achieve" program: 64 percent of the population could afford to lose weight, 18 percent work out regularly (three times a week), and only 10 percent of those joining health clubs actually participate in workouts. One in four children are obese with hardening of the arteries found in youths as young as 12. One in four people have onset diabetes by the age of 30.
"This is the first generation of young people who will have a shorter life expectancy than their parents," Steffen added. "My mission is to get you motivated to eat healthy and exercise regularly. It is never too late to start."
Fast food represented a $6 billion business back in 1970. That amount now stands at $111 billion. A fast food diet usually contains high levels of fat and low nutritional values.
Steffen described obesity as having at least 33 percent body fat. The average male today has 22 percent body fat or 7 percent over the recommended figure, while the average female has 31 percent as compared to the recommended 21 to 22 percent.
"The word cellulite does not appear in medical dictionaries," he said. "Fat is fat and cellulite cream is not going to help."
Steffen favors a 5 STEPP Success Program that can be applied to all aspects of life. STEPP is an acronym for:
• Sacrifice - Sacrificing small things, such as getting up 30 minutes early in order to exercise, can lead to big results. He suggests sacrificing what you don't need to get what you want.
• Target - Determine what your goal is, keep your target in sight and shoot for the bullseye.
• Enthusiasm - Enthusiasm and passion seem to make obstacles disappear while striving for a goal.
• Patience - Patience will help a person break through barriers and rise above the rest.
• Perseverance - Stick to the goal at hand through good times and bad.
"The final step is to circle STEPP with a big O," Steffen said with a smile. "O stands for optimism."
He demonstrated a unique exercise program using barbells, dumbbells, juggling toys and exercise balls.
The strenuous exercise ball program, dubbed BOGA, helps improve core strength which equates to power while he claims juggling builds gray matter in the brain.
"The more unstable the environment, the more effective the exercise," Steffen added. "Now is the time to get high on exercise."
In closing, he encouraged parents to set good examples for their children.
"Your kids will look at you," he added. "When you start getting healthy, they will imitate you and then everyone wins."