Wednesday, September 6th, 2006
Cardinals roll past Roughriders
By Gary R. Rasberry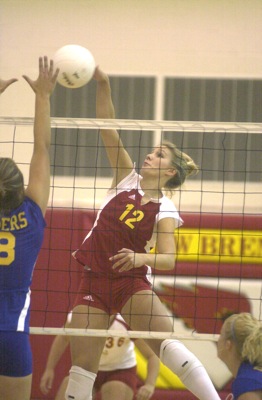 NEW BREMEN - The New Bremen Cardinals evened their season mark at 3-3 overall with a three-game win over Auglaize County rival St. Marys on Tuesday at Cardinal Gymnasium.
The Cardinals used long service runs to come away with the three-game win (25-19, 25-14, 25-19) over the Roughriders, who fall to 0-6 on the season.
New Bremen coach Lisa Thobe was glad to see the service game do well, considering the Cardinals were inconsistent on the attack.
"We had 15 hitting errors in that first game," said Thobe. "They had 19 points and we gave them 15. They didn't have to touch the ball. They touched a couple, but other than that, we hit it out. We're going to have to work on that a little bit.
"Our first game, we had 13 serve-receive errors. We fixed that and moved on to something else."
In the opening game, New Bremen jumped out 4-0, only to have the Roughriders get the sideout and run off five straight on the serve of Brittany Roth to go up 6-4. The Cardinals came back as Stephanie Winner and Taylor Jones served up aces to allow their team to take the lead back for good at 9-8. While hitting errors gave St. Marys points, the Cardinals were able to score some off the attack as well, with Christine Schwartz hammering home four kills in the opening game.
In game two, St. Marys got the serve and scored a point before turning the ball over to the Cardinals. Winner stepped up and came up with a big run, reeling off 11 points to put the Cardinals up 12-1. Winner had two aces with Schwartz, Jones and Kate Wente adding kills. The closest the Roughriders got in the second game after the 11-point barrage was nine points.
"I think we served fairly aggressively and we were playing the net well at that point," said Thobe. "We blocked a few balls and that always seems to ruffle the other team's feathers. If you can keep solid at the net, then we can serve better."
With New Bremen on top 8-5, the Cardinals' Courtney Schmackers came off the bench to run off five straight service points to make it 14-5. Schmackers had an ace as Jaclyn Dabbelt added two kills to spark the run.
Things looked bleak before Bailey Smith got a kill to get the serve back to the Roughriders. Smith went back to serve and picked up five points to cut the deficit to 14-11 before New Bremen got the serve back. The Roughriders got as close as 17-16 before Schwartz made a big block to get the serve back. From there, St. Marys managed just three more points. Jones served out the match, getting two aces and a kill from Wente to end the match.
"I keep telling them it's mental," said Thobe about the last St. Marys run. "It's so mental. If you don't keep your head in the game, the minute they get a little lead they relax. You can't do that, because they (the opponent) can start hitting and doing whatever. You have to be ready for it."
"It looked a lot better (in the third game)," said St. Marys coach Tricia Naseman. "I just talked about them being more aggressive. That second game we (St. Marys) were just tipping and we can't do that. Once we get a ball up there to set, we need to be aggressive. I think that's what they did the third game."
St. Marys won the junior varsity contest in three games, taking the final game 25-19.
New Bremen travels to Coldwater on Thursday to face Coldwater in a Midwest Athletic Conference matchup. St. Marys returns home on Thursday to face Defiance in Western Buckeye League action.