Tuesday, October 17th, 2006
Something to be thankful for on Touvelle Street
By Timothy Cox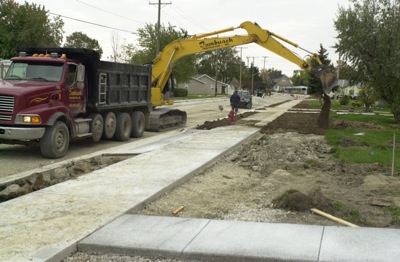 The $1.2 million reconstruction of Touvelle Street remains on schedule to wrap up around Thanksgiving.
All underground utility work is complete, most curbs and gutters are built and paving should begin next week, city development consultant Kent Bryan said. Even the recent bout of sharply cooler weather has not knocked the project off schedule, he said.
There was some concern the project would not be able to be completed this year when snow started flying last week. But Bryan said there still are several more weeks before asphalt plants close for the season and contractors need only a few mild days to get the paving done.
"The old rule of thumb has always been Thanksgiving," Bryan said. "Rarely do asphalt plants close before Thanksgiving and often they are open a couple of weeks into December, depending on the weather."
When the project was in the planning stages, city officials had anticipated that the final coat of asphalt would not be laid down until next spring. But Tumbusch Construction, St. Henry, the low bidder for the contract, insisted the paving be completed this season, Bryan said, and city officials didn't argue the issue.
The project includes complete reconstruction of the road surface and all curbs, gutters and sidewalks between Main Street and Fairground Road. Some of the new sidewalks are six feet wide instead of four in places where there was enough right-of-way for the wider paths. A water main underneath the street also is being replaced.
New decorative street lights also are being installed along the stretch. The black poles look nicer than the existing lights but are not the same type of poles used on the recent Ash Street reconstruction. The Ash Street poles cost about $2,500 each while the poles being used on Touvelle Street cost just $500, Bryan said.
City officials plan to use the more expensive poles only in the downtown district, he said.
The Ohio Department of Transportation is covering 80 percent of the street portion of the work. The city also secured Ohio Public Works Commission funding and committed some local money to the project.