Wednesday, October 18th, 2006
Bulldogs move on
By Gary R. Rasberry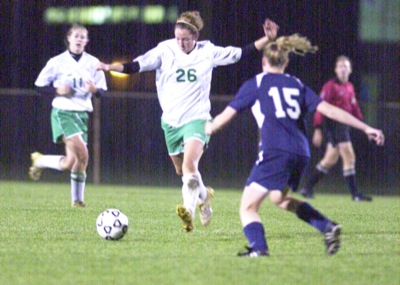 FINDLAY - The Celina girls soccer team picked up its first win in tournament after defeating the Napoleon LadyCats 3-0 in Division I sectional play at Graham Memorial Stadium on Tuesday.
The Bulldogs (14-2-1) now play Elida on Monday in Findlay in a sectional final. Elida defeated Defiance 4-0 in Tuesday's first match. Elida beat Celina 3-1 in WBL play earlier this season.
"It was a big win for us," said Celina coach Cal Freeman. "I'm just real pleased how we played. I thought pretty much we played consistently on offense and defense. They pretty much controlled the game."
Celina dominated the first half of the attack, keeping the ball close to the LadyCats' goal. The Bulldogs outshot the LadyCats 17-1 in the first 40 minutes of play. Napoleon keeper Kristen Gilgenbaugh made nine saves in the first half.
"We talked about putting the pressure on them, putting them down. Playing our game and not their game," said Freeman. "I think we did that."
The work paid just past the halfway mark of the first half when Shelbi Nation found Allison Braun in the goal box at the 19:02 mark to draw first blood.
Nation finally got a goal of her own nine minutes later, putting in a rebound of a Courtney McKirnan shot at the 10:09 mark to make it a two-goal game.
In the second half, Celina kept the pressure on Napoleon, allowing them just two shots on goal while continuing to pepper Gilgenbaugh in the goal with seven shots.
Cayla Hellwarth kept the Celina scoring attack going just two minutes into the second half, taking the ball in herself and scoring with 37:56 left to go to make it a three-goal match.
"We talked about scoring early in the second half," said Freeman. "The first 10 minutes are important. It was big for us.
"It's my first win as a coach in tournament. I'm really happy with the girls. They did a great job."
Napoleon had one of its best chances to score with just over 28 minutes to go in the match. Katie Brown got the ball into the box, but shot wide of the goal.
The LadyCats had one more chance to score as time expired when Celina was called for a foul in the goal box. Hannah Heaston took the shot, but Braun, who replaced Laura Kuhn in the goal when Freeman pulled the starters with 13 minutes left in the match, tipped the ball harmlessly away to end the match.
Now Celina gets a rematch with Elida, which handed Celina its only league loss of the year.
"That's what we're gearing up for," said Freeman. "That was a dogfight (earlier this season). We're going to get prepared. We're going to come out and play as hard as we can play. I'm looking forward to it."