Friday, October 20th, 2006
Man sentenced to 7 years and 4 months in prison
By Margie Wuebker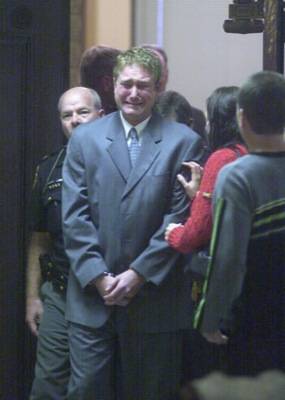 Anguished sobs filled Mercer County Common Pleas Court on Thursday afternoon as Ricky Driskill was led away in handcuffs to await transport to prison.
Driskill, a 29-year-old Modoc, Ind., resident, appeared stunned when Judge Jeffrey Ingraham sentenced him to seven years and four months on charges of felonious assault on a police officer, theft of a motor vehicle and vehicular assault.
Tears quickly replaced disbelief after Ingraham left the bench and Driskill, clad in a gray suit and white shirt, cried "No, oh my God, no." He hugged his sobbing wife, Pam, over the courtroom railing. "I love you so much," she said shaking with emotion.
Defense attorney John Poppe stood in stunned silence before shaking hands with Mercer County Assistant Prosecutor Matt Fox and comforting the client.
More than four dozen law enforcement officers, with bowed heads and somber faces, left the courtroom quietly to allow Driskill, who has been described as a successful computer software salesman, a small business owner and a model citizen who followed each court sanction explicitly, time with family and friends before being escorted across the street to the Mercer County Jail.
Seventeen months have passed since May 1, 2005 - the day he drove left of center on Watkins Road and struck a car carrying St. Henry-area farmer Roger Huwer, his wife and young child. He then fled the scene in a pickup truck belonging to a first responder.
Unfamiliar with the area between St. Henry and Burkettsville, Driskill drove through a field and over a Wabash River embankment resulting in a second crash. He held three officers at bay with a box cutter taken from the truck, ignoring orders to put the weapon down and the stinging effects of pepper spray.
Mercer County Sheriff's Deputy Doug Timmerman fired one shot as Driskill lunged at him. The Indiana man continued to threaten officers despite a gunshot wound to the abdomen and eventually threw the box cutter at Coldwater Patrolman Randy Waltmire with such force that it dented a nearby cruiser.
Poppe filed a memorandum with the court prior to the scheduled Oct. 13 sentencing asking that a variety of medical and mental health issues be considered as mitigating factors in his client's bizarre behavior.
Ingraham addressed Poppe's suggestions regarding sentencing factors, totally dismissing the allegation that Driskill acted under strong provocation. He added the defendant voluntarily ingested alcohol and "mind-altering" drugs and deprived himself of sleep the night before the offenses.
"You are the one responsible for your conduct," the judge told the defendant.
Driskill earlier admitted drinking and using cocaine. Blood tests also detected the presence of methamphetamine, although he denied ingesting the drug and later indicated it might have been included on the plate of cocaine he accepted at a friend's home.
Ingraham imposed prison sentences of four years on the felonious assault charge, 16 months on the theft charge and two years on the vehicular assault charge. The time is to be served consecutively, with Driskill being eligible for judicial release after completing five years.
"Consecutive sentences are not disproportionate to the offenses involved," the judge explained. "The harm involved was great enough and unusual enough."
Neither a fine nor restitution was ordered as a civil suit has been filed on behalf of Roger Huwer, who continues to deal with injuries sustained in the crash.
Driskill, who has been on house arrest much of the time with provisions allowing him to work, oversee his rental properties, visit medical/mental health providers and attend court proceedings, faced up to 16 years in prison and $32,500 in fines.
He pleaded in both cases Aug. 25 as part of a negotiated deal that resulted in the dismissal of another first-degree felonious assault charge. The agreement contained no recommendation on sentencing.
"I feel the court exercised discretion in pronouncing sentence," Fox added. "It has been a long 17 months but sometimes cases of this complexity take a long time."
Timmerman, who asked for a fair prison sentence during a victim impact statement presented Oct. 13, left the courthouse with his wife and other family members. They continue to deal with the aftermath of the traumatic events.
"Justice has been served," he told The Daily Standard later. "I think the judge did a fantastic job and handed down a fair sentence. Now we can go on and begin to heal."