Saturday, October 21st, 2006
Redskins run wild in big win over Tigers
By Mark Ruschau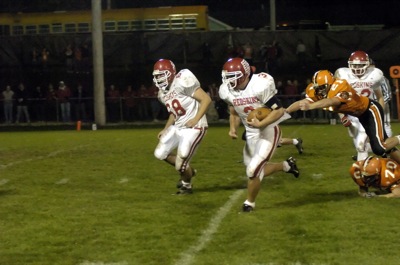 VERSAILLES - What a difference a week makes.
Friday night the Versailles Tigers came back to earth with a thud as the St. Henry Redskins used a punishing running game and a stifling defense to rout the Tigers 51-8 in Midwest Athletic Conference action on Senior Night at Hole Field.
Last week, Versailles gave Coldwater, the second ranked team in Division IV, all it could handle before falling 34-13.
With the win, St. Henry improves to 8-1 overall and 7-1 in the conference play. Versailles falls to 4-5 and 3-5.
The Redskins jumped on the Tigers with 23 points in the first quarter and controlled the game from the outset. St. Henry kicker Jon Clune gave the defense great field position as he pinned Versailles on its own 10 yard line. Disaster soon struck the Tigers as the fourth down snap from center went over the head of punter Ryan Pohlman and out of the endzone for a St. Henry safety.
After the ensuing free kick, St. Henry took over at its 45 and quickly scored in three plays. On the first play from scrimmage, Andy Puthoff gained 53 yards to the Versailles eight. After Chris Reichert gained a yard, Puthoff busted in from seven yards to make the score 9-0 after the first of seven straight Clune extra points.
"Versailles made some mistakes early in the game and we took advantage," said St. Henry coach Jeff Starkey. "We knew as hard as Versailles played last week and as well as they played last week, that we had to find some way to create some momentum early and our kids were able to do just that."
"We got off to a bad start when we snapped the ball over the punter's head and we were down 2-0. Things kind of snowballed from there," said Versailles coach Jason Schondelmyer. "The disappointing thing about tonight is that we played so well last week and then to come in here and stink up the game, that is disappointing."
(Continued from page 18)

Again the St. Henry defense came up big again midway through the quarter when Ryan Hartke recovered a Tony McNeilan fumble at the Versailles 37. It took the Redskins just two plays to tack on another score as Puthoff swept in from 37 yards out to make the score 16-0.
After an exchange of turnovers late in the first quarter, Puthoff scored his third touchdown of the quarter as he went over from 17 yards out, capping a 61-yard, seven-play drive to make the score 23-0.
On the night, St. Henry rolled up 401 yards on the ground on just 30 carries for an average of over 13 yards per carry. Four different Redskins gained at least 50 yards and a score. Puthoff led the way with 163 yards on just nine carries and three touchdowns. Neil Schwieterman chipped in 91 yards on seven carries and a score. Ryan Huwer added 80 yards on three carries, including a 65-yard touchdown.
"Our offensive line play has improved every week and every week we have tried to get better up there," said Starkey. "It has kind of become our identity on offense to be a physical football team and run the ball.
"We tell our guys that we can not be out-weight-roomed, but were tonight by those guys," said Schondelmyer. "We just could not stop their pitch play all night long. We even called a timeout and told the kids that they were going to run a touch sweep and we just didn't get there.
"St. Henry is a nice football team," continued Schondelmyer. "What impressed me most was that they came off the ball and really knocked the snot out of us."
St. Henry closes out regular season play next Friday as it hosts Fort Recovery. Versailles travels to Parkway for its final game.