Wednesday, October 4th, 2006
Celina closes home slate with shutout
By Gary R. Rasberry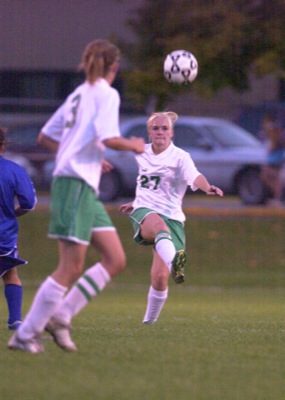 Celina completed the home portion of its girls soccer season in style with a 3-0 win over Defiance at the Soccer Stadium to go to 11-2-1 on the season and 6-1 in the Western Buckeye League. Defiance drops to 3-4 in the WBL.
The night was a perfect sendoff for the seven Celina seniors - Sarah Ausland, Jess Walls, Amy Niekamp, Amanda Schmitt, Kylie Temple and Laura Kuhn - as Celina played solid soccer on both sides of the field.
"We dedicated the game to them," said Celina coach Cal Freeman. "We were hoping to do a little bit better for them. We put a lot of shots on goal (22) and weren't able to put them in the net."
Celina had a chance early to score when Defiance was called for a handball in the box, resulting in a penalty kick. Niekamp got the chance to take the shot, but it went straight to Defiance keeper April Robarge, who made the save.
A second chance at the PK came with 231/2 minutes left when Defiance was called for a foul in the goal box. This time Allison Braun took the kick and put it to the left of Robarge to start the scoring with the Green and White on top 1-0.
Seven minutes later, Laura Axe booted a perfect pass to Eryn Langenkamp, who was right in front of the goal to make it 2-0 at the half.
The end of the first half took a serious turn as Defiance defender Gabi Sanchez went down to the ground with 33 seconds left and did not move. Although she was moving her legs and arms, an ambulance was called in to immobilize her and send her to the hospital. The officials ran out the clock to send the match to halftime.
The second half was mainly a kick-ball battle as Robarge made several big saves to keep Celina from scoring. Celina got its third goal with 2:24 left in the match as Shelbi Nation took a direct kick and scored.
The Celina defense held Defiance to just five shot attempts all night. Kuhn made one save and Braun, who came in to play goal when the seniors were given a curtain call, made another.
"The girls we have on defense just played fantastic for us," said Freeman. "(They're) consistent and it's definitely one of our strong points."
In the junior varsity match, Celina won 6-0 over Defiance. Kylie Samples recorded the hat trick with three scores while Steph Heyne added two goals. Brittany Ley added the other Celina goal with Katelyn Moorman adding an assist.
Celina is on the road for its final two regular-season games. Celina heads north on Saturday to play Toledo Central Catholic.