Wednesday, November 1st, 2006
Cav boys looking for team success; Durkee dives to state
By Gary R. Rasberry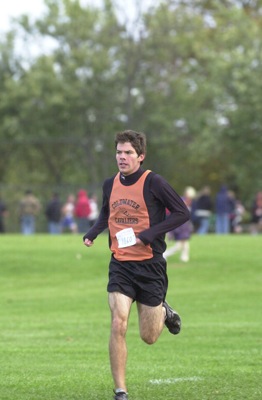 The last several years, David Wilker has been the standard-bearer for the Coldwater boys, finishing no lower than 15th in the first three appearances at the state meet.
Now, Wilker will have some running partners at Scioto Downs as the Cavalier boys make their first team appearance at state in quite a while.
Coldwater placed third at the Tiffin Regional on Saturday in a weather pattern that coach Dan Pohlman said had about everything, especially mud.
Wilker, the lone senior of the seven runners, will lead junior Ben Heyne, sophomores Dusty Kuess and Brock Timmerman and freshmen Alex Gray, Justin Muhlenkamp and Brandon Stammen to Scioto Downs.
After earning All-Ohio all three of his years, highlighted by a fourth-place finish last year, Wilker is glad the whole team is coming down this time around.
"The past couple of years, we've fallen short of getting there," said Wilker, the first male four-time Midwest Athletic Conference champion. "It took a little bit to get used to running as an individual, but now it's nice to be lining up with six of my teammates. ... It's a little more incentive."
Getting the third of four team spots was cause for a big celebration, says Kuess.
"I'm pretty pumped about making it," said Kuess, whose brother Jamie ran at Scioto Downs in 2005, finishing 47th. "We wanted to go last year and got real close. This year we finally made it."
With a fairly young group, Wilker is looked on as the leader of the group.
"They've already asked me if it's a fast course," said Wilker. "I said that it's going to be because the competition is going to be there. I'll just talk to them and keep them calm. Main thing is keeping calm. With three freshmen on varsity, it's real easy to get worked up."
For some of the returnees from last year, when Coldwater missed out on a team berth by five points, this season looks to be a year of redemption.
"Last year, I had a bad race myself," said Heyne, who finished out of the top 100 at Tiffin. "It kind of kept us away from going to state. Going this year is a real big accomplishment. We're all just excited to run the race."
Durkee goes all out - literally - to make state
Talk about going all out to reach a goal.
That's exactly how Jason Durkee got his chance to go to the state cross country meet.
The St. Marys senior was outside the top 16 that earned an advancement to the Division II state cross country meet on Saturday as he ran at the Tiffin Regional.
As he approached the finish line, Durkee took a page from football and dove for the goal-line.
"I just saw him (Chase Sweeney of Napoleon) ahead of me," said Durkee, describing the final short distance of the race. "You have that feeling of wanting it so bad that you need to get it. With five yards left in the race, he started to come up on me. I stepped in front of him a little and he hit me in the back. By this time we were so tired because of all the mud on the course. We just both went down and dove for it. It was pretty amazing because we were just laying there. The (line judge) yelled 'Blue!' We both look up and we're both wearing blue. We both just passed out there."
It would take a while before Durkee found out he finished 16th, and earned the final qualifying spot for state.
"I didn't find out for 45-50 minutes," said Durkee. "When I did find out, I was shocked."
Durkee makes his second trip to Scioto Downs after two years ago finishing 47th in the Division II race.