Saturday, November 4th, 2006
Defending champs start postseason with blowout
Slavik carves up Otsego pass defense
By Gary R. Rasberry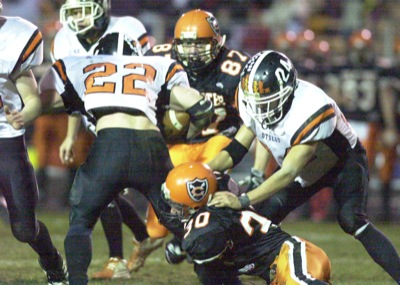 COLDWATER - A bitter cold night didn't stop the hot passing by Coldwater's Sam Slavik.
The Cavalier senior threw for 386 yards and three touchdowns and the Coldwater defense held tough against a determined Otsego team in a 42-17 win for the homestanding Cavaliers over the Knights in the opening round of the Division IV playoffs at Cavalier Stadium.
Coldwater (11-0), now winners of 26 straight games, will play Oak Harbor this Friday at a site that will be determined over the weekend. Oak Harbor improved to 11-0 with a 35-7 win over Clear Fork in its opening game.
Slavik was an equal opportunity passer on Friday. In going 22-of-39 for his near-400 yards, Slavik found eight different receivers and seven had at least two catches with six having 20 or more yards.
"He's played that way all year." said Reed. "He has been the catalyst that has made us go, even when we didn't have Ryan (Geier) and now that we don't have Matt (Hoyng), he's been the guy who's held us together.
"Plus our offensive line has blocked so well," said Reed. "That's the strength of our offensive team, our pass blocking."
Otsego coach Dale Bernard was impressed with the Cavalier triggerman as well.
"Sam Slavik is a very good quarterback," said Bernard. "I saw him pick us apart. We covered his first route and his second route, then he'd hit his third one."
Otsego (7-4) came out and looked to take control with running back Cody Donald, a 2,000-yard rusher on the season. Donald carried the ball eight times on the opening drive, punching it in from a yard out to end a 63/4 minute drive with a score to put the Knights up 7-0 early.
Slavik answered the Knights' score by welcoming an old friend back to action. On the first offensive play for Coldwater, Slavik found Ryan Geier, who had missed the last 51/2 games with a broken collarbone, for a 64-yard touchdown pass. Mario de la Rosa's PAT-kick tied the game at 7-all.
"The answer was very important," said Reed. "I thought that was a big turning point in the game. You've got to be able to respond. The momentum seemed to be going (Otsego's) way. If you respond right away, maybe you can break that."
From there, Coldwater's defense tightened, allowing a 30-yard field goal from Genki Odakura in the second quarter. The Cavaliers picked up the pace as Adam Homan punched one in from a yard out, then Slavik capped the half off by finding Tony Harlamert for a 50-yard score with less than a minute left in the half.
Even with his team up 21-10 at the half, Reed wasn't happy with his team's play in the first half and used the halftime break to motivate his team to come out a little stronger.
The Cavaliers responded by starting the second half with a seven-play 83-yard scoring drive as Slavik picked apart the Otsego secondary. Slavik found Geier three times on the drive and closed things out by finding Cory Klenke for a 24-yard scoring strike with 9:39 left in the third to make it 28-10.
"That was important," said Reed. "We talked about some things we thought we could do. Sam had some things he thought we could do. That's pretty much what we did in that drive."
Otsego's offense took a hit on the ensuing drive as Donald, who had 126 yards rushing in the first half, went down in the midst of what was a long run. Donald left the game with a hamstring injury and did not return, finishing with 149 yards rushing.
"He's really an impressive player," said Reed of Donald. "I'm very sorry he got hurt. I mean that. You don't want to see them not being able to do what they want to do because of him not being able to play."
The Knights began to throw the ball to compensate. Otsego quarterback Kenny Rodgers was 4-of-6 passing in the second half for 113 yards, 32 coming in the final score of the game for the Knights when Justin Henck snagged a pass in the fourth quarter. Henck caught six of Rodgers' passes, totaling 91 yards.
"We moved the ball," said Bernard. "I thought our offense was working pretty well (282 yards of offense, 170 on the ground). (Coldwater) made some adjustments to stop some things."
"I didn't think we played very good pass coverage," said Reed. "I was very disappointed in that. This isn't something they do. They don't throw the ball well. Late in the game, I thought they were picking us apart."
Coldwater finished up its scoring attack by going to the ground. Homan added his second one-yard score in the third quarter and Harlamert scored from seven yards out with five minutes left in the game. Harlamert finished with 77 yards rushing and 66 yards receiving.
Geier, in his first game back since the Anna game in week four, had eight catches for 168 yards.
"Who would have ever said the chances of us being 11-0 at this point of the season when you've lost so many players? It wouldn't have been good," said Reed. "These guys keep playing."