Monday, November 6th, 2006
Competition catches up to Minster
By Bruce Monnin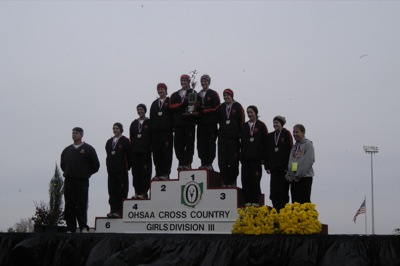 COLUMBUS - Last year, the Minster Lady Wildcats dominated the state cross country race, being the only school in any division to have all five of their scoring girls finish with a time under 20:00.
So when they repeated the feat this year, one might expect them to have earned yet another state title.
But this year the competition was stronger.
Gates Mills Gilmour Academy finished third last season, and like Minster graduated no seniors from its team. But while only two of their girls broke the 20-minute mark last year, this year six of their runners did, with their second-through-sixth runners all finishing within 13 seconds of each other.
The improved depth was enough to top Minster for the girls state title for Gates Mills Gilmour.
"Minster is the best team in the state of Ohio, regardless of division. Minster is the gold standard in Ohio girls cross country," stated Gates Mills Gilmour Academy coach Matt Lindley. "We told the girls all week that we weren't coming down here to run for second place. We were going to come down here to try to win."
Gilmour was the state track champion the last two years, and had beaten Minster's 3200-meter relay team at state last year. This year Gilmour set its goal on Minster before the season began, racing against and beating many large Cleveland area schools (including three of which that were competing in the Division I race).
"Our main goal was to come down here and race against Minster and beat them," confided Lindley. "We prepped all year for this. Every girl ran a season best or even a career best today. They all finished strong and the second half of the race they were all picking off places."
"We knew all along that Gilmour was going to be tough," added Minster coach Jessie Magato. "Our typical pack just lost sight of each other and let too many get in between them. The girls really just love to compete. They love what they do. Although they're disappointed, I don't think that second (place) is going to take that away from them. They have a lot to be proud of."
Five runners will return for Minster to attempt to regain the title next year. However, the high-school careers of seniors Jenna Fausey and Brigitte Sherman ended with two state titles, a runner-up and a third-place finish in their four years.
"It was definitely a good career overall," stated Fausey. "We had an amazing season. I just love our team and it was a lot of fun."
Sherman was not quite ready to call it a career yet.
"I think it's not really over. I'm going to run in college, hopefully. I'm going to miss my team but I'm going to practice with them over the summer. I think it will hit me when I actually leave Minster."
On the other end of the spectrum, freshman Jessica Albers managed the unlikely accomplishment of breaking into the Minster lineup that was a state championship team returning all seven of its runners. Albers finished fifth for the Wildcats, helping improve their score despite being a rookie at the state meet.
"I think it was a great experience," said Albers of the state meet. "Going to Alabama helped a lot, as far as getting me ready to come here."
While most eyes were on the battle for first place, the Versailles Lady Tigers were improving on last year's fifth-place finish.
This year the Tigers moved up into fourth in the team standings. Sophomores Mary Prakel and Kristen Schulte led the way for Versailles, finishing in 16th and 43rd, respectively.
Versailles is another fairly young team, with only seniors Caitlin Liette (56th overall) and Kristen Smith (96th overall) unable to return next year. Junior Katie Jo Mestemake and freshmen Taylor Huffman and Valerie Barga join Prakel and Schulte as returning runners who will be aiming to move even higher in the standings next season.
Several local girls competed individually at the state meet. The top finisher among them was Fort Recovery sophomore Mindy Vogel, who finished 30th overall. Vogel was a study in contrasts, as she was possibly the most nervous participant before the race started, and perhaps the calmest and happiest when it was over.
"I was a bundle of nerves," confessed Vogel.
As for the race itself, she started out quickly, then needed to survive the middle before coming on near the finish.
"The first mile was fast. I thought I was doing fine, then the second mile got to me, especially when we got to the hills," added Vogel. "But I stayed strong and passed some people."
Coldwater's Renee Kanney finish 100th, but the freshman viewed the race as a building block for the future.
"I'm glad I was able to come here this year because I want our whole team to get here next year, and now I have the experience and I know those hills aren't as bad as they look."
Renee was not overwhelmed as some are by the size and speed of the field at the state meet.
"We ran at the Tiffin Carnival, so it wasn't completely new to me," stated Kanney. "but there are a lot of fast girls here."
In the Division II race, Celina junior Melissa Roth was another first-time participant of the state championship race.
Roth finished 60th overall, which was in the top half of the field, but still not quite as good as she was hoping for.
"I think my nerves might have gotten to me a little bit," explained Roth. "But I felt pretty good. I tried not to go out too fast. I tried to pace myself today. I was consistently passing girls throughout the race, so I feel good that I was constantly making progress."
Like Kanney, Roth is hoping to use her experience for the benefit of her entire team next year. Next year she wants her teammates running at the state meet with her.
"I'm going to make sure to get the girls out and we're going to be running together this summer," said Roth.

State Cross Country Agate
Boys Division II
Individual Results (Top three and local)
1. Aaron Melhorn (Navarre Fairless) 15:22; 2. Scott Hilditch (Peninsula Woodridge) 15:46; 3. Brian Himelright (Peninsula Woodridge) 15:47; 71. Jason Durkee (St. Marys) 17:17
Boys Division III
Team Standings
1. Louisville St. Thomas Aquinas 114; 2. East Canton 115; 3. McDonald 125; 10. Coldwater 233
Individual Results (Top five and local)
1. Samuel Borchers (Yellow Springs) 15:50; 2. Nicholas Dysle (East Canton) 15:52; 3. Andy Morgan (Cortland Maplewood) 15:56; 7. David Wilker (Coldwater) 16:09; 30. Dusty Kuess (Coldwater) 16:51; 80. Ben Heyne (Coldwater) 17:41; 95. Alex Gray (Coldwater) 17:57; 126. Brock Timmerman (Coldwater) 18:42; 129. Brandon Stammen (Coldwater) 18:50; 130. Justin Muhlenkamp (Coldwater) 18:51

Girls Division II
Individual Results (Top three and local) - 1. Emily Infeld, Jr. (Cleveland Heights Beaumont) 17:40; 2. Cassandra Schenk (Mantua Crestwood) 17:52; 3. Holly Baird (Wauseon) 18:47; 60. Melissa Roth (Celina) 20:17
Girls Division III
Team Standings - 1. Gates Mills Gilmour Academy 83; 2. Minster 89; 3. Findlay Liberty-Benton 140; 4. Versailles 146
Individual Results (Top three and local) - 1. Caitlin Thomas (Cardington-Lincoln) 18:32; 2. Sarah Schulze (Anna) 18:34; 3. Kesha Brooks (Liberty-Benton) 18:37; 7. Bernadette Burke (Minster) 19:03; 16. Mary Prakel (Versailles) 19:20; 20. Brigitte Sherman (Minster) 19:32; 30. Mindy Vogel (Fort Recovery) 19:47; 35. Lei Bornhorst (Minster) 19:54; 38. Katie Dahlinghaus (Minster) 19:55; 43. Kristen Schulte (Versailles) 19:57; 45. Jessica Albers (Minster) 19:59; 47. Erin Calvelage (Delphos St. John's) 20:06; 56. Caitlin Liette (Versailles) 20:15; 60. Jenna Fausey (Minster) 20:17; 61. Taylor Huffman (Versailles) 20:18; 65. Valerie Barga (Versailles) 20:21; 68. Lauren Fausey (Minster) 20:26; 93. Katie Jo Mestemaker (Versailles) 20:53; 96. Kristen Smith (Versailles) 20:58; 100. Renee Kanney (Coldwater) 21:10