Friday, November 10th, 2006
New Knoxville to play for state title Saturday
By Gary R. Rasberry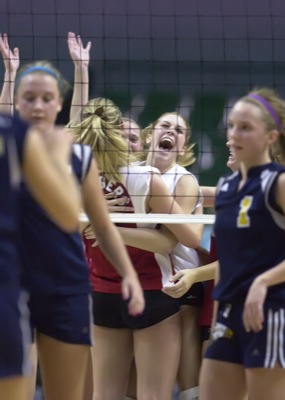 FAIRBORN - New Knoxville advanced to its first-ever state volleyball title game after winning a grueling four-game match against Toledo Christian in the Division IV state semifinals on Thursday night at the Ervin J. Nutter Center on the campus of Wright State University.
The Eagles, making their first-ever trip to state, won the opener 25-23 before the Rangers took control in games two and three with scores of 25-18 and 25-15. The Eagles came back to challenge in game four, forcing extra points before the Rangers came through with a 27-25 win.
The Rangers (26-2), making the trip to state for the first time since 1989, will play the Lady Flyers of Norwalk St. Paul (25-3) in the championship match at 11 a.m. on Saturday. The Lady Flyers needed five games before dispatching Frankfort Adena in the first match of the night.
The match featured plenty of solid attacks. New Knoxville's pair of Nicole Wright and Alycia Niemeyer did their usual best, while the Eagles (22-6) got a spectacular night from their 5-6 outside-hitter Maggie Busch, who will play college volleyball at Michigan next season.
The first game gave a perfect example of what the match would be, the teams were tied nine times and there were two lead changes. It was a service error on the Rangers that gave the Eagles a 25-23 first-game win with Busch getting seven kills and serving up three aces.
New Knoxville, however, came back with a vengeance in game two after trailing 8-4 early in the game. Wright and Busch squared off spike-for-spike. Busch had 13 kills to Wright's 10, but Niemeyer contributed an additional nine kills to allow the Rangers to square the match at one apiece following a 25-18 win.
"We got down early in the second game, and I told them that if they don't come out and play now, that's it," said Rangers coach Jenny Fledderjohann, who played her high school volleyball at Fort Recovery. "It'll be over. We were down 4-5 against Lehman in the regional finals and we came back. We can do it again.
"They're a great group of girls. They respond well."
"We got a little sloppy with our passing and didn't do what we wanted to do offensively," said TC coach Dave Conley.
It appeared the Rangers would pull away, going up 8-4 early in game three, but the Eagles came back to cut it to 12-10. After the Rangers got the serve back, Niemeyer served up four straight points to push the lead to 17-10, not looking back en route to a 25-15 win to make it 2-1 in the match.
"We picked up our defense and passed a lot better," said Fledderjohann. "We served a little tougher."
Just when things looked like it would go quick for the Rangers in game four, the Eagles staged a tremendous comeback. Every time New Knoxville tried to get a run to pull away, Toledo Christian found a response.
Sara Schweer came up to serve for the Eagles who trailed by three at 20-17. Busch and Shannon Longenecker combined on a block to get within two, Busch then scored a kill to make it a one-point game and a Longenecker-Sarah Evans combo block tied the game at 20-all.
A spike out of bounds by Niemeyer gave the Eagles its first lead since 1-0 before Niemeyer got a kill to tie things up.
The score was tied up four more times in the game and 10 times total in the match. Toledo Christian would get a one-point lead for game point twice, only to have the Rangers tie things up and force additional points.
The tide turned at 25-all when TC's Schweer put the ball into the net to bring up match point for the Rangers. With Wright on the serve line, Niemeyer blocked a spike by Jasmine Vegrinac to put the Rangers in the finals.
"We didn't want it to go five (to a fifth game), that's for sure," said Fledderjohann with a laugh.
"The girls had a great season and worked very hard," said Conley. "They were confident. They thought if they played their game tonight, they would come out with a win. New Knoxville is a tough squad and play in a tough conference. They did what they had to do tonight."
Busch did all she could to keep the Eagles in the match, finishing with a match-high 24 kills and added 15 digs and five aces. Evans set up the attack with 40 assists.
"She's just a tremendous player," said Fledderjohann of Busch. "They had trouble getting good sets for her."
Wright had 19 kills and 17 digs for the Rangers while Niemeyer added 18 kills. Morgan Reineke came up big in the later matches, getting three kills each in the middle two games and finished with eight kills total while Haley Kruse set up the attack with 41 assists.
"Morgan, my sophomore, really stepped it up," said Fledderjohann. "She knocked it down that line. That was big for us. She helped us out through tournament. Everyone talks about Alycia and Nicole, they're tremendous players. The outside hitting (of Reineke) has helped us."