Monday, November 13th, 2006
A day for parents, youths - memories
By Laura Walker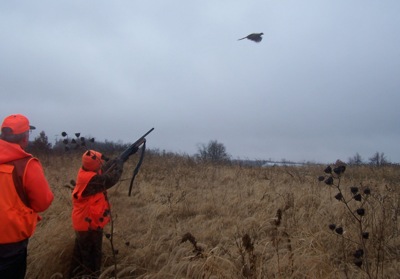 FORT RECOVERY - Youth and adult hunters gathered at Ohio Progressive Sportsman's Club on Saturday morning for the first Damon Klenke Memorial Youth Pheasant Hunt.
"When we sent the hunt applications out, Damon Klenke was still with us. Three days later he wasn't. We want to dedicate this hunt to him and keep him in our hearts," said youth chairman, Jonas Foote, Fort Recovery, as he held back his emotions.
Klenke, 13, was a member of the Ringnecks, the youth section of Mercer County Pheasants Forever. He died in an ATV accident on Sept. 26. He was an avid outdoorsman, participating on a trapshooting team and in other activities.
"He would have been one of the kids helping, even though he could have been out in the field," said chapter president Bill Knapke, Fort Recovery.
Pheasants Forever offers free youth activities throughout the year, explained Knakpe. Ringneck's Day, a day for kids too young to participate in youth hunts; Youth Shoot, where youth get to participate in skeet, trap, archery and pigeon shooting; Dove Hunt and Pheasant Hunt, all generate 40-50 kids per event he said. Events are open to everyone, not just Pheasants Forever members. PF will help find gear for any child who does not have the needed equipment.
"It is a good chance for parents and kids to get out and do things together," Knapke said.
Saturday was wet with the threat of the clouds opening up at any moment, but as Foote said, "A day out in the field, is a day out in the field, it doesn't matter on the weather."
PF members set a dozen pheasants into each field early Saturday morning. When setting, the bird's head is tucked under its wing and the bird is spun several times and tucked into the weeds. This prevents the birds from moving too much, allowing guides to know approximately where they may kick up a bird, explained Knapke.
Knapke said the birds are pen raised by Pat Schmidt, as part of his business.
The hunting fields are private properties, specifically created as habitats for wildlife. Knapke's fields, two of which were available for Saturday's hunt, are planted with sunflowers, millet, warm season grasses and native prairie grasses.
PF participates in many programs to create habitat areas. These properties are often eligible for cost sharing opportunities. Information on these programs and the national organization can be found at www.pheasantsforever.org.
Before going to their fields, youth received safety instruction by Foote. Each field had a group of four youth under close supervision of a guide and parents. Once at their designated hunting area, the youths met with their dogs and handlers.
Each dog works differently, some flush and some only point, leaving the flushing to be done by the hunters. Handlers donate their time taking their dogs out for the youth hunt.
"These events all happen with a lot of volunteer help, they give kids shells, pack coolers of food and have everything you want," said Joe Cron, father of two youth hunters Adam, 15, and Jobe, 14, all of Celina.