Tuesday, November 14th, 2006
Aquaculture unit added at Parkway
By Nancy Allen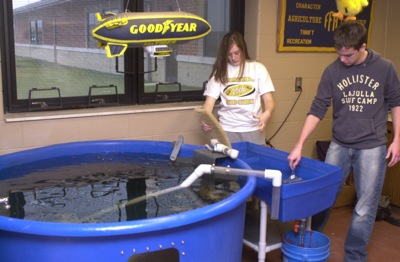 Students in Parkway Local Schools agricultural program are learning to raise fish as part of a new aquaculture unit added to the curriculum this school year.
There currently are about 60 tilapia fish swimming around in a new 450-gallon tank. This spring, once the fish reach about 11/2 pounds, they will be harvested and filleted by Parkway FFA students for a giant student fish fry at the school.
The fish and food were donated by Meiring Poultry and Fish Farm in Fort Recovery and arrived about six weeks ago measuring a few inches long.
Sophomore Samantha Jackson said she never thought she'd be raising tilapia at school.
"I didn't even know what aquaculture was really, I just knew it had to do with water," Jackson said.
Jackson and fellow student, junior Travis Guggenbiller, tested the PH level and temperature of the water on Monday, a daily job, and cleaned fish waste from the settlement basin, a weekly chore. A PH level above 8 or water temperature over 70 degrees are unhealthy for the fish, they said.
Students also feed the tilapia daily and perform other tests for dissolved oxygen, nitrate and nitrite levels as needed.
Parkway agriculture instructor/FFA adviser Alan Post said schools are adding niche-type classes like aquaculture to the curriculum to keep up with changes in agriculture.
Coldwater Exempted Village Schools has a greenhouse program and until about six years ago had an aquaculture program. Lincolnview Local Schools in Van Wert County has added a hydroponics unit, and there is a school near Toledo that has an aquaculture unit that raises fish for pet stores, Post added.
"To be productive in small-scale agriculture they have to find a specialty, and aquaculture could be that specialty to stay productive and create income," Post said.
Student teacher Nick Bruns, who had worked on a local fish farm, taught Parkway aquaculture students for 12 weeks while he was here, providing hands-on knowledge of the business, Post said.
The fish tank has a biofilter that cleans the water before it is recirculated and used again. The new setup was installed as part of the new preschool through grade 12 building that opened this school year.
Parkway had a smaller, simpler system that Post fabricated using a fertilizer tank and a sump pump. The new system is more sophisticated and can "more intensely grow the fish," Post said.
Post said the new aquaculture unit at Parkway also will provide cross curricular opportunities for Parkway high school science students who will perform testing on the water in the fish tank.