Friday, November 17th, 2006
Former Mercer County stars will enjoy The Game
Homan, Boeckman will suit up for OSU in what is being called the best game in history of OSU-UM rivalry
By Ryan Hines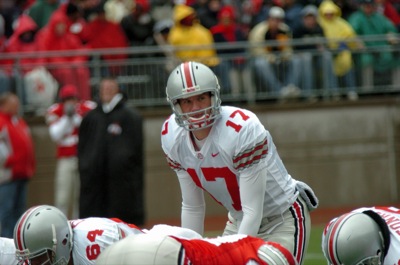 No one in Mercer County will have a better view of The Game on Saturday in Columbus than a pair of former athletic stars from the area.
Coldwater graduate Ross Homan and St. Henry alum Todd Boeckman will be suited up in the scarlet and grey and roaming the Ohio State sidelines contributing in different ways.
Homan is a freshman for the Buckeyes and sees action on special teams while also contributing as a second-string weak-side linebacker.
The more Michigan lines up in formations without three receivers the more Homan will be on the field for the Buckeyes as he backs up Marcus Freeman.
Homan has been a strong contributor for the Buckeyes throughout the season totaling 28 tackles (15 solo/13 assisted), including two tackles for loss along with a sack and interception. The interception came last week against Northwestern.
Although Ross was unable to speak because of Jim Tressel's media lockdown after Monday, Dave Homan, Ross' dad, talked about the middle of his three sons.
"Ross would love to talk to you about The Game, but he takes football very seriously and coach Tressel instituted a media lockdown with players following Monday," said the elder Homan. "Coach Tressel made it very clear to the players that after Tuesday it was all football. The coaching staff reminded the players to get papers or other homework done and in to professors by Tuesday because after that, it's all about football."
As the third-string Ohio State quarterback for Saturday, it isn't likely that Boeckman will play, but the redshirt sophomore knows that he'll be contributing in another way.
"Whenever we don't send in a play with another player, I signal in the plays to Troy (Smith)," said Boeckman. "I take that very seriously because coach Tressel preaches about things being done correctly every time and I don't want a mistake to happen because of me sending in the play."
Whether competing on the field or contributing from the sidelines, it's surely to be a memorable day for the two former Mercer County stars.
"The excitement is extremely high in Columbus, around campus and probably all around Ohio and Michigan," said Boeckman, who was a three-sport star while at St. Henry in football, basketball and baseball. "No matter where you go it seems to be on everybody's mind. It's always an honor to be at an OSU-Michigan game and with what's on the line this year and all the hype, it should be an amazing experience."
"What a year for Ross the past two years," said Homan. "He goes from winning a state title last year at Coldwater to contributing on the #1 team in the nation. What a year to come into Ohio State with the Texas game from earlier in the year when it was one versus two and now getting to experience the type of atmosphere that will be there on Saturday for the Michigan game."
With two sons living in Columbus, Dave Homan has gotten an idea of the atmosphere surrounding Ohio's state capital.
"My oldest son (Ryan) says it's just crazy around Columbus right now with everything going on. It's not just a huge topic in Ohio and Michigan, it's a national topic on people's minds."
It's been a national topic for weeks as fans for OSU and Michigan have been anticipating a matchup of undefeated teams with the winner earning a berth in the BCS title game, but according to Boeckman, the rivalry matchup hasn't been the focus of the Buckeyes.
"When you're ranked #1 and you play in a conference in the Big Ten, you can't afford to look ahead one week, two weeks or whatever," said Boeckman, who scored his first rushing touchdown last week against Northwestern. "I think that halfway through the season people started talking about it being a possibility with a lot on the line for the Michigan game, but I think that everyone kept the focus on game-to-game until toward the end of the third quarter last week at Northwestern. We saw on the sidelines that Michigan won and we were up by quite a bit so then it was hard not to think and talk about it."
While names like Troy Smith, Ted Ginn Jr., Anthony Gonzalez, James Laurinaitis and Quinn Pitcock will be the names in the spotlight on Saturday, don't forget about the Mercer County duo that will be contributing in their own way looking to help Ohio State beat Michigan for the fifth time in the last six years.