Wednesday, November 22nd, 2006
Battle of Flyers for berth in title game
By Gary R. Rasberry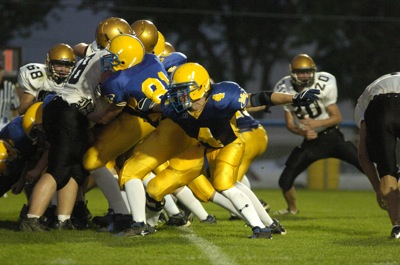 For Marion Local coach Tim Goodwin, Friday's Division VI state semifinal game with Norwalk St. Paul is almost like looking at a mirror image of his own team.
The fact that both teams are nicknamed Flyers aside and some differences in formations, Goodwin can't help but notice that both teams have nearly the same style of play.
Both teams have a solid history in the playoffs, but Friday's game at Frost-Kalnow Stadium/Tiffin National Field will be the first meeting between the teams.
Marion came up big last week beating Mechanicsburg 14-0 at Piqua, holding the Indians to 98 yards of offense with just six yards coming via the run.
"That was a physical game," said Goodwin. "Our kids came out of that game sore and still are sore. It was a hard-fought battle upfront. Our kids played well, upfront especially.
St. Paul, 6-4 in the regular season and the eighth seed in region 22, knocked off Mohawk by three in week 11, then burned McComb 40-28 before scoring with 29 seconds left to beat Hopewell-Loudon 29-28 last week in Fremont to advance to the Final Four.
"They're just competitors," said Goodwin. "We have their playoff tapes and every game has been back and forth. We know they're going to come out and play 48 minutes. They're not going to get discouraged if they get down one or two scores. They've come back from those deficits.
"The biggest difference is the style of team they are. They're going to snap the ball and come right at you. We haven't seen that for a while. We're going to have to gear up. Everyone is going forward."
One player Marion will see all over the field is running back-linebacker Joe Stoll (6-1, 215 pounds), who earned the Division VI District Defensive Player of the Year for the second time this week and was the state's top defensive player last year. Stoll, who played through mononucleosis and a hamstring injury through the season, had 122 tackles and four sacks through 12 games on defense and added over 1,350 rushing yards and 19 touchdowns in the same span.
"He's a good football player, there's no way around it," said Goodwin. "He's been good on the varsity level since his sophomore year. He reminds me of Sean Stewart of Anna. We'll have our hands full with him, there's no doubt about it."
Goodwin can't help but notice that both his team and St. Paul like to establish the run and stop the run.
"They don't play big kids on defense, like we do," said Goodwin. "They have a 200-pound defensive linemen, maybe a little smaller. They stunt a lot like we do. It's a lot of contrast between last week and this week.
"They're very similar to us. They're committed to running the football and stopping the run. They run a 6-2 and run straight man coverage behind it. They're daring you to pass."
With Stoll and Marion's Marc Otte (1,836 yards, 28 touchdowns) coming in as the big runners, whichever team can get the passing game going will be getting the upper hand.
St. Paul senior quarterback Brad Frank has passed for over 1,300 yards in 12 games this season with nine touchdowns. Wingback Joe Graziani (5-10, 160, junior) has made 27 catches for 433 yards and four scores this season while also adding 469 yards rushing with seven scores.
Marion quarterback Chris Stucke has 609 yards rushing out of the option and has completed 76-of-162 passes for 1,159 yards and 12 touchdowns. Tight end Damon Bertke has been the favorite target with 334 yards on 29 catches, but four others have at least seven receptions and 166 yards.
"It very well could," said Goodwin about the game coming down to passing. "It's going to be a battle of wills. It could very well come down to a quarterback making a play or a receiver making a play."