Saturday, November 25th, 2006
Celina and Versailles hold on for wins
By Ryan Hines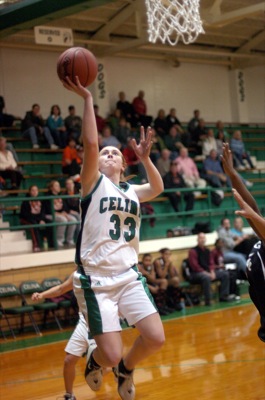 A pair of Grand Lake area teams made up half of the field in the 21st annual OVISCO Classic at the Fieldhouse on Friday.
After a pair of close games, Celina and Versailles emerged the winners over Linden McKinley and Cincinnati Hills Christian Academy to reach the OVISCO finals being played tonight.
Celina survived a potential game-tying three-pointer at the buzzer to prevail 48-45 while Versailles held a huge advantage at the free-throw line and made a strong third-quarter run to defeat CHCA, 52-47.
The host Bulldogs and Tigers will play for the OVISCO championship tonight at approximately 7:45 p.m., following the consolation matchup between Linden McKinley and CHCA, which starts at 6 p.m.

Celina 48, Linden McKinley 45
The Bulldogs had some trouble offensively, but relied on their defense to register a three-point victory.
Celina held Linden McKinley to just 34 percent field-goal shooting while forcing 28 turnovers.
Despite those two statistics pointing in Celina's favor, It was a struggle to the finish for the Bulldogs.
Betsy Hone's playing time was limited due to foul trouble throughout the game, but a scoring spurt by the senior in the fourth quarter gave the Bulldogs what looked to be a comfortable cushion.
With Celina nursing a one-point advantage, Hone came off the bench and hit a pair of three-pointers while Amy Harner added a pair of free throws to give the Bulldogs a 45-36 lead with four minutes left to play.
"Betsy was in foul trouble most of the game, but when she got in there during the fourth quarter, she gave us an offensive presence and she hit some big shots there," said Celina head coach Brian Stetler.
Hone fouled out just 30 seconds later and the offense stalled for Celina.
Linden McKinley crept back into the contest with aggressive rebounding along with dismal Celina free-throw shooting. Celina hit just three-of-six from the charity stripe in the closing minutes as Linden McKinley got within three points with 9.9 seconds left on the clock following a free throw by Ciara Johnson.
Johnson missed the second of the two free throws, but Linden McKinley recovered giving the Panthers the final possession of the game. Linden McKinley didn't look organized on its final possession, but Sheridan Edwards got a good look at the basket for a potential game-tying trey that bounced off the rim as the buzzer sounded.
"I felt that once we got that big offensive burst in the fourth quarter that it might lead to a blowout, but we didn't rebound and we didn't make our free throws," said Stetler.
Celina shot just 14-of-26 from the free-throw line and was outrebounded by Linden McKinley, 39-25.
Liz Homan led Celina with 15 points and eight rebounds, Hone added 14 points to go along with 10 points from Kelsey Waterman.
Johnson was a force in the post for Linden McKinley with 14 points and a game-high 16 rebounds while teammate Martia Reed contributed 15 points.

Versailles 52, CHCA 47
The Tigers will be making the OVISCO finals for the first time in the three years that Versailles has played in the season-opening tournament.
A huge disparity over CHCA at the free-throw line and a big third-quarter surge helped give Versailles its five-point triumph.
Versailles struggled in the first half and entered the third quarter facing a five-point deficit at 29-24.
The Tigers came out of halftime with an aggressive and physical effort on the defensive end which also sparked the Versailles offense.
It was a team effort for Versailles in the decisive third quarter when the Tigers outscored CHCA 16-7. The Tigers had five different players account for the 16 third-quarter points with Melissa Heft and Justine Raterman leading the way with four points apiece.
"I think that we came out of halftime and really got after it defensively," said Versailles head coach Jacki Stonebreaker. "We did a better job defensively on #12 and #21 and we got into a rhythm offensively."
Versailles took its four-point lead into the fourth quarter and CHCA got as close as two points midway through the stanza but a soft touch at the charity stripe lifted the Tigers to a victory.
The Tigers hit 22-of-29 from the free-throw line while CHCA was just 9-of-17.
Raterman paced a balanced Versailles offense with 13 points while adding a game-best nine rebounds. Megan Shardo and Heft also reached double digits for Versailles with 10 points apiece.
Courtney Kust led all scorers for CHCA with 15 points while Erin McGuire and Rachel Arrington added 10 points apiece.