Thursday, November 30th, 2006
Destination: Canton
Flyers and Redskins tied by road, family and respect
By Gary R. Rasberry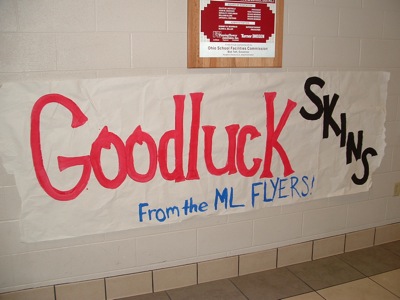 Roughly 10 miles separate the school systems of St. Henry and Marion Local along state Route 119, a sight not uncommon among most of the schools of the Midwest Athletic Conference.
But looking closer, the bond between the schools goes a little deeper with the ties between the schools being as much a blood tie than a regional tie.
Both football teams have won state titles, but this weekend sees both teams playing for state titles at the same time.
For St. Henry athletic director Tim Boeckman, who guided the Redskins to four state football titles in his tenure, having both teams go is doubly a blessing.
Boeckman is a Marion Local graduate, and a former Flyer football and track star. His wife Denise is a Marion Local graduate and both have had family play for Marion over the years.
"This is a situation where, being a graduate of Marion Local and (Marion) being one of our biggest rivalries not only in football, but in all sports, plus having relations at Marion, my wife having relations in Marion with the tie-ins, it's a special weekend for both of our communities and for the MAC," said Boeckman. "It's a situation where both of us have been successful, it's the first time (for football) at the same time. A lot of our fans are trying to do both, leaving Friday and going up to watch the football game. Same with their fans staying overnight and watching us Saturday."
It's a situation not new. In 2004, Marion and St. Henry's boys basketball teams played for a state title in Columbus - St. Henry winning in Division III with Marion runner-up in Division IV.
With all the close ties, the games between the schools, especially in football, have become get-togethers after the game, hence the rivalry being occasionally called "The Social Gathering."
"It's a good, clean rivalry," said Boeckman. "We jokingly say, we play the game, then go to someone's house after the game. ... It's very intense and hard fought on the field, but the nice thing is it's good, clean football. ... It's won and lost on the field and enjoyed afterwards."
Marion Local athletic director Stan Wilker agrees.
"It's a great feeling. Historically, we go back a long way with St. Henry and it's been a tremendous rivalry," said Wilker. "It's a good feeling to go down there, honestly, whether it's Coldwater, Versailles or St. Henry, there's a tight-knit feeling in the MAC.
"There's as much family bond between Marion and St. Henry, and maybe Marion-Versailles, than anybody we play on the schedule. That makes it a little better. We were down at state with Coldwater (in 2000), but it's the first time with St. Henry. It's special," continued Wilker.
The schools, along with other conference schools, have sent good luck posters to be displayed. During the playoffs, since both teams play different days, football players from the other schools have watched the game and congratulated each other after games.
"I know I followed Marion through the playoffs, except for the last game in Tiffin, I see a lot of St. Henry people there," said Boeckman. "What really comes to mind was halftime of the LCC game (for St. Henry). When I saw the team go off the field, I saw Delphos (St. John's) and Marion players in their jackets high-fiving our kids as they go off the field.
"That's the one special thing about this area and league. Number one, we're spoiled to have the communities and school systems we have. Second, it's just good, clean rivalries. It all goes back to the families," added Boeckman.
"We came to watch Coldwater play in 2000 after we won," said Wilker, who was also a longtime assistant football coach for the Flyers. "I think we came in when there was a TV timeout. We walked to the end zone seats (where teams can watch games) and a significant portion of the Coldwater fans must have saw us and gave us a standing ovation."
Wilker and Boeckman have worked together as athletic directors for many years. When Marion Local played in its first state football title game in 2000, Boeckman, who had six trips under his belt already, offered help.
"We've talked a lot over the years and this week especially," said Boeckman. "We talked about different things. Everybody has different ideas about what to do. They've been there before and we've been there before. It helps to talk about it."
"We copied some things they had done," said Wilker. "They work out very well with pregame stuff, meals and things like that."
Both teams will also use the same hotel in Canton during the weekend.
The ties between the schools is well-presenced on the football field. A number of St. Henry players playing Saturday have a parent who went to Marion.
Quarterback Doug Griesdorn is the most noticeable, as his dad Frank, who is the high school principal and assistant football coach at St. Henry, and mother are from Marion. Other Redskins with ties include Zack Thobe, brothers Matt and Mark Thobe.
While Wilker said he wouldn't be able to go to the St. Henry game since the team will be heading back early, Boeckman hopes to make it Friday to watch the Flyers.
"Depending on logistics and if we can practice outdoors in Canton. If the weather was permitting like last week, we would definitely take the team, but with the weather scenario, it doesn't look like it," said Boeckman. "If we're not there, we'll definitely catch a TV or radio to listen to the game. We wish them the best of luck from St. Henry."
This year, the opposite doesn't hold true with Marion players with direct St. Henry ties, although there will be some cousins playing on Saturday.
Even with needling each other, it's done with a smile.
"Stan is older than I am," said Boeckman, with a wide grin sprouting. "If I think right, Stan did his student teaching at Marion when I was still in school. Stan has been like a dad to me and helps me out in those ways."
When Wilker was told of the comment, as requested by Boeckman, Wilker had a perfect retort.
"Tell him I'm claiming him as a tax exemption, then," said Wilker.