Friday, December 1st, 2006
Eagles will present many challenges
By Gary R. Rasberry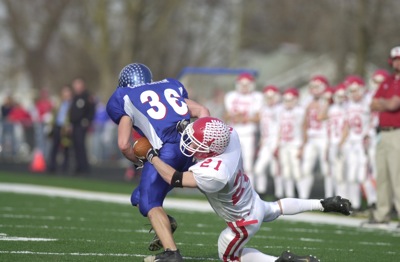 It appears to be the unstoppable object against the high-octane attack when St. Henry plays Warren John F. Kennedy on Saturday morning in the Division V state championship game at Canton's Fawcett Stadium.
The Eagles (14-0) are playing for their first state title since 1991 while the Redskins (13-1) look for their second in three seasons.
"This team has been there," said Eagles coach Tony Napolet of St. Henry. "They have a great, great tailback and the quarterback is good with some nice wide receivers. They're well-coached and their tradition is like ours."
JFK brings a spread offense to the title game lining up one running back with four receivers and a tight end rotating in.
Quarterback J.J. Townsend (6-4, 190), the Division V co-Offensive Player of the Year, threw for 1,389 yards in the regular season with 15 touchdowns to just four picks while adding 502 yards rushing with eight more scores.
Rotating in the backfield will be a pair of solid backs. Junior Jared Providence (6-0, 175) leads the team with 649 rushing yards and 11 touchdowns on the ground while Eric McBride (5-7, 160, Jr.) adds 589 yards and eight scores.
The wide receivers are paced by 6-4 sophomore Desmar Jackson, who led the team in the regular season with 425 yards on 18 catches (23.6 yards per catch) and seven touchdowns. Junior James Howard (6-0, 150) leads the team in receptions with 24 for 290 yards and two scores while senior Dan Hull (5-10, 145) adds 17 catches for 277 yards. In all, five receivers had at least nine catches and over 139 yards during the regular season.
"It's distributed very well," said Napolet, who shared the state Division V Coach of the Year award with Bedford Chanel's Deve Stupka.
St. Henry coach Jeff Starkey said that last week's game with Liberty-Benton gives the Redskins a good feel for what JFK will have to offer.
"Their style is very much like (Liberty-Benton)," said Starkey. "They spread the field and have a quarterback who can run and throw. They have a very good running back. They really cause you problems."
The Eagles have a big front line to allow the offense to work. The tackles are led by 6-1, 325-pound sophomore Matt Cash on one side and 275-pound senior Mark Pleiss on the other. The guards, James Morgan and Cory Diles, go 260 and 195, respectively, with center Scott Gisewhite stacking up at 220.
Napolet knows his defense will have a challenge in trying to slow down Redskins tailback Andy Puthoff, who needs 11 yards to reach 2,200 yards on the season.
"This guy's 6-3 and 230. If you don't hit him, he'll run you over," said Napolet. "He's a freight train. He's a player. We've never seen a back this size. If we don't tackle him, we're in trouble."
Starkey has his concerns about the Eagles' defense. During the regular season, JFK caused 19 turnovers - albeit with the team making 15 turnovers.
"They've caused a lot of havoc," said Starkey. "They make a lot of plays in the backfield. We will really have to protect the quarterback. They really get after the quarterback."
"Defensively, we play the 50, the Oklahoma defense and the 5-2," said Napolet. "We've run it ever since I got here. We like the way we coach this defense. The kids like it."
Experience is on the side of the Redskins, who will have four starters from the 2004 state title team in the lineup on Saturday.
"We had four sophomore starters in 2004 and eight others who saw time in the game," said Starkey. "They've been there before. They know what to expect.
"They see this as a business trip. It's not a family vacation or a tour of Stark County."