Saturday, December 2nd, 2006
Whipping winds cause havoc
By Laura Walker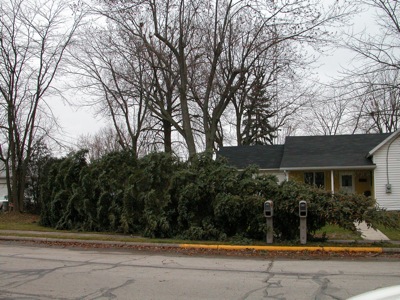 Winds with regular gusts near 50 mph caused problems throughout Mercer and Auglaize counties Friday.
Troy Anderson, director of the Auglaize County Homeland Security and Emergency Management Department, recorded a maximum gust of 65 mph around 9 a.m. Friday morning. He said average gust of 48-50 mph continued throughout the afternoon.
Scanners crackled throughout the morning and afternoon as dispatchers sent law enforcement officers and utility crews to reports of toppled utility poles, downed wires and uprooted trees. The wind ripped away shingles from area roofs and tossed trash cans into the streets.
Jon Hall of Celina arrived home to find his steel shed blown from its foundation. He said the building was blown across an empty lot and literally wrapped around a chain link fence near his Willow Court home. He said everything inside the shed was blown all over the yard.
A car port attached to a house trailer in Mercerline Trailer Court in Celina was blown away with pieces of it lying around the trailer court and even in nearby Grand Lake.
In downtown Coldwater, a 16-foot high street lamp was broken off at the base. A clerk at the village office said it also was the victim of high winds.
Up to 600 members of Midwest Electric had power outages Friday, according to Matt Berry, manager/customer service of Midwest Electric.
At the peak, outages were scattered around Fort Recovery, St. Marys, Cridersville, Wapakoneta, Maria Stein and Montezuma. The outages started around noon, he said in a press release.
According to Mercer County Sheriff's Department 911 Coordinator Monte Diegel, wind contributed to a lot of snapped electric poles across the county. And when the poles fall, they bring the lines with them, he said. He said there were so many poles down, dispatch was sending hourly faxes to Dayton Power and Light.
"Obviously today presented us with a number of challenges, not just high winds. We had a lot of rain overnight, so now we not only have high winds to worry about but also water blowing across roads," Diegel said.
These situations kept dispatchers and sheriff's deputies exceptionally busy Friday, he said.
In Auglaize County, Anderson said crews also were dealing with flooding problems from Grand Lake. The wind pushed waves over the shore at Southmoor Shores and Harmon's Landing on the southeast side of the lake and at Grand Lake St. Marys State Park and Villa Nova on the northeast side. He said sand has been purchased for residents in those areas who need to sandbag.
Temperatures fell from 20 to 30 degrees between Friday morning and mid afternoon, and meteorologists cautioned they could drop by as much as 40 degrees overnight. The chill had hit the entire state by afternoon, with temperatures in the 40s in eastern areas and down to 30 degrees in the west.
''The biggest change came in less than 12 hours, and colder air is going to continue to rush in,'' Mike Ryan, a meteorologist with the National Weather Service, said Friday. ''We could still see some scattered rain showers changing over to snow showers mainly across the northern half of the state. The rest of the state is going to be dry.''
- The Associated Press contributed to this story.