Monday, December 4th, 2006
Redskins roll to sixth state football title
Puthoff carries St. Henry to Division V state crown
By Gary R. Rasberry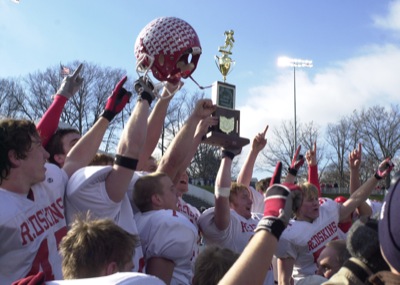 CANTON - Warren John F. Kennedy was introduced to Andy Puthoff early and often on Saturday.
The Eagles knew that the Redskin tailback would be coming, but could find no way to stop him on a regular basis.
Puthoff capped off his high school football career with 209 yards rushing and three touchdowns as St. Henry won its second state title in three years and sixth in state history by beating JFK in the Division V state football championship at Fawcett Stadium.
The Redskins end the regular season at 14-1 as the Eagles lose for the first time this season to finish 14-1.
Puthoff's gave the near 6,000 fans in the stadium one last look at his power-running game as he found ways to break through the Eagles' defense.
"It's a great feeling, but I give the credit to all my teammates. Everybody has to step it up," said Puthoff.
"All we need is just a little seam for Putty to get through," said St. Henry offensive lineman and punter Mitch Niekamp.
The running game was set up all day by a tenacious defense that slowed down JFK's spread offense.
The tone of the game was set on the first drive of the day. Jon Clune's kickoff put the Eagles deep in their own territory, made deeper with an illegal block call on the return. JFK got just one yard of offense before punting the ball away.
St. Henry started its day on the JFK 35, where Puthoff carried the ball on four of the five plays, getting the final two yards to paydirt with 7:47 to go in the opening stanza.
While the Redskins kept JFK from getting any sustained drives, the Eagles' defense also stepped up and kept the Redskins scoreless for the rest of the first quarter.
The second St. Henry score came on a nine-play drive that spanned the first and second quarters. St. Henry stayed on the ground with Puthoff carrying six of the nine plays, breaking in from a yard out to make it 14-0 before halftime.
"We wanted to establish a gameplan that was going to be a physical gameplan, to run the football," said St. Henry coach Jeff Starkey. "Defensively, we were concerned about the athleticism they had on the outside, the running backs they played all year and their quarterback, who was the Player of the Year (in Division V). We wanted to be physical with them."
"Every sportscaster asks what does it take to win football games," said JFK coach Tony Napolet. "The answer to that is you have to be able to control the lines of scrimmage. Today, unfortunately for us, we didn't do that on either side.
"They beat us up pretty good up front. ... The big back (Puthoff) is a nice back. Give him a little soft spot and he'll hurt you. He did that today," added Napolet.
As the third quarter began, St. Henry tried to get the score that would essentially put the game out of reach. The first drive stalled out at the JFK 22 when Puthoff was stopped for no gain on fourth down. Redskin fans were given a scare as Puthoff came off the field holding his arm and shoulder after tweaking his shoulder, an injury that happened earlier in the playoffs. After the Redskins' defense held tough again, Doug Griesdorn finally hit the big pass. With JFK looking for Puthoff to carry the load once again, Griesdorn looked deep for Zack Thobe for what was a 31-yard scoring pass with 5:03 left in the third quarter to make it 21-0. JFK got a consolation score on the ensuing series as quarterback J.J. Townsend finally began to look deep on his passes, moving the Eagles down field and deep into St. Henry territory. A pass interference call on St. Henry put the Eagles on the Redskin 12, where Jared Province ran in for a touchdown to make it 21-7. As the fourth quarter began, Puthoff, back in after missing a few plays, put the capper on his outstanding rushing day, breaking through for a 38-yard run on the first play of the quarter, then running for 17 on the next play. Puthoff got his third touchdown of the game on a seven-yard run with 9:28 remaining in the game to make it 28-7 after Clune's PAT kick. The St. Henry defense held JFK to 176 yards of offense and Townsend was just 13-of-31 passing for 108 yards. "The defensive line really stepped up," said Redskin linebacker Chris Reichert, who had seven tackles to lead St. Henry's defense. "They were getting so much pressure in there. They would loop around and I would come through."
"All year, we preached using our hands and our feet," said defensive lineman Matt Thobe, who had two sacks on the day. "They really couldn't contain us that much."
Napolet was impressed with St. Henry's defense as well. "They were just a little better than we were defensively," said Napolet. "Offensively, we didn't block them well. We had people open. We just didn't have time to get it to them. They were a lot better than I thought they were. Looking at film, I thought we had a chance. We did have a chance, but it didn't work out that way."