Tuesday, December 12th, 2006
Unbeaten Blue Jays down Roughriders
By Mark Ruschau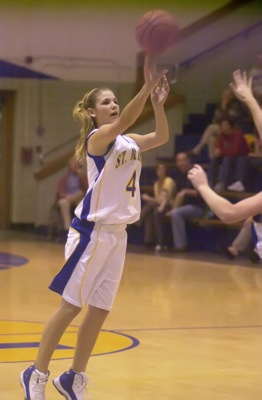 ST. MARYS - The undefeated St. John's Blue Jays used a strong defensive effort over the final 17 minutes to subdue a valiant effort by the St. Marys Roughriders, 50-36, on Monday night in girls nonleague action at McBroom Gymnasium.
St. John's remains undefeated at 6-0 while St. Marys, loser of four straight, falls to 1-4.
St. Marys used a strong defensive effort of its own to stay with the visitors early in the game. In the first 14 minutes, St. John's was able to hit on just 5-of-17 shots from the floor.
While the defense for St. Marys was stepping up in the first, the Roughrider offense struggled all night long, as they made just 14 field goals on the night while turning the ball over 23 times.
"We're in a tough stretch of games right now against some very good competition," said St. Marys head coach Tim Niekamp. "This kind of competition makes you better and the kids have to understand that. You don't get better by playing bad teams, but by playing good teams and going through tough stretches and that's what we're going through right now.
"Our kids have good attitudes and they're a coachable team and they continue to work and in the past couple of games I have seen some positive things," continued Niekamp. "We've had some kids step up for us and they just need to continue to do that."
St. John's head coach Dan Grothouse was impressed with the start by the Roughriders.
"I don't think we came out as ready to play as St. Marys did," said Grothouse. "They came out and challenged us and came at us and kind of caught us not ready to play that kind of basketball. We challenged the girls and told them that we're going to have to pick up our play and meet their intensity and maybe take the intensity one step further and we did that."
With the score tied at 17-17 with just over two minutes left in the half, St. John's scored the last seven points before the break for a 24-17 lead at the half.
"That was a critical swing right there at the end of the half," said Niekamp. "I don't know what kind of bearing it had on the outcome of the game, but it had a bearing on that part of the game. Those kinds of things happen."
St. John's blew the game open in the third period as it put together a solid effort on both ends of the court. On the offensive end, the Blue Jays hit on 5-of-10 shots from the floor and they turned the ball over just twice On the defensive end, St. John's held St. Marys to just two field goals in the third quarter and forced 11 turnovers in the period.
"We stretched out defensive pressure on the ball," said Grothouse "We made it a little more difficult for them to run their offense to make the next pass, while earlier in the game they were able to throw the ball wherever they wanted. We picked it up a notch and slowed them.
Bockey led the Jays with 14 points and a team-high seven rebounds while Lea Mackenbach led St. Marys with 14 points.
St. Marys returns to action on Thursday as it travels to Defiance for a Western Buckeye League contest while St. John's also takes to road on Thursday as it travels to St. Henry for a Midwest Athletic Conference contest.