Friday, December 15th, 2006
Celina wrestlers seal win in final bout
By Gary R. Rasberry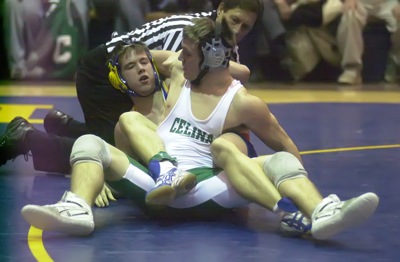 ST. MARYS - The wrestling portion of the Battle of Grand Lake turned out to be as good as expected on Thursday night at McBroom Gymnasium.
St. Marys tied up the match at 30-all with three bouts remaining. Celina got the advantage with a pin, only to have the Roughriders score a decision to get within three points.
The MatDogs put the match away with a technical fall in the final bout to take a 41-33 win.
Celina took a 30-21 lead after the 119-pound bout when Tyler Thees pinned Zach Hedrick at the 4:39 mark. St. Marys rebounded with Jordan Price pinning Seth Posada with 20 seconds left in period two to cut the Roughriders' deficit to 30-27. At 130 pounds, MatDog Nathan Chamberlain took on Roughrider Josh Toler, who scored an early takedown to lead 2-0 after the first period. After no scoring by either man in the second period, Toler chose down for the third and got a reversal. Toler gave Posada two escape points while getting a takedown midway through the period to wrap up a 6-2 win to tie the match.
The MatDogs got the early advantage by having Nick Gray wrestle at 135. The former WBL champ needed little time to get control of Garrett Yahl, scoring the pinfall with 26 seconds left in the opening period to put Celina up 36-30.
Needing a win just to prevent Celina from sewing up the match, Daryl Mabry took on Zack Gray at 140. Mabry got the early takedown, then rolled Gray for five total back points to lead 7-0 after the first period. Gray kept the Celina crowd into the match, getting an escape, then taking down Mabry in the second period to cut it to 7-3.
Early in the third, Mabry was warned for stalling and later the referee gave Gray a point to cut it to 7-4, but Mabry, who started the third period in the down position, got a reversal to make 9-4 at the end of the bout.
Celina sent Alex Dues to the mat for the 145-pound bout - the finale of the night - as St. Marys went with freshman Sean Barnett needing a decision to tie the match or a major decision or better to win outright.
It wasn't meant to be as Dues got the early takedown and picked up a total of eight back points - two three-pointers and a two-pointer - to lead 9-0 after the first two minutes. Dues chose to put Barnett in the down spot to start the second period and picked up three more back points. Barnett got the reversal, but had an illegal hold and gave Dues a point. In the final moments, Dues reversed Barnett and got three back points as the period came to a close, ending the match with a 19-2 technical fall.
"We told them in the locker room if you get pinned, you're not going to win," said St. Marys coach Larry Gruber. "If you give up a pin, you have to win two matches to equalize. That's where it pretty much hurt us.
"(Barnett) is a freshman. (A freshman is) not usually who you want the last match to come down to. Luck of the draw, I guess."
The rest of the card went back and fourth. Kirk Wietholter started out strong for St. Marys by pinning Tyler Temple in 3:45 in the opening bout at 152 pounds. Celina countered with a pin of its own as Jordan Davis needed just over a minute to pin Tyler Sawmiller at 160.
St. Marys' Paul Lauth came up big at 171 against Celina's Austin Trisel. With the bout tied at 2-all in the third, Lauth escaped, got a takedown and scored three back points to take an 8-2 decision.
Celina's Steve Stoker ran his record to 6-0 on the season with a pin of Dustin Arnold at 189 pounds and St. Marys' Nathan Brown scored a pin with less than a minute left in the match on Mitch Miracle at 215 pounds.
Heavyweight Chris Wilken took home honors for fastest pin of the night, needed just 55 seconds to put Marcus Neal's shoulders to the mat for the needed time. After a void gave Celina six points to make it 24-15, St. Marys' Josh Cisco improved to 6-0 on the season, pinning R.J. Baskett with 25 seconds left to go in the match.
"Our young guys really stepped it up tonight," said Celina coach Tim Doner. "Some guys lost who shouldn't have lost, but our young guys really stepped it up.
"Some of those losses would have been wins if they didn't get pinned (four of Celina's losses came by pin)."
In junior varsity matches, Celina and St. Marys wrestled to a 12-all draw. Celina winners were Elliott Westgerdes (pin) and Derek Minch (pin) while getting wins for St. Marys were Kevin Falasco (decision), Keith Perry (decision) and Adam Miller (pin).
Celina returns to action Tuesday by hosting a Western Buckeye League pool duals. Elida, Kenton, Shawnee and Van Wert will take part in the event at the Fieldhouse starting at 5:30 p.m.