Saturday, December 23rd, 2006
Military forces on minds of loved ones
By Margie Wuebker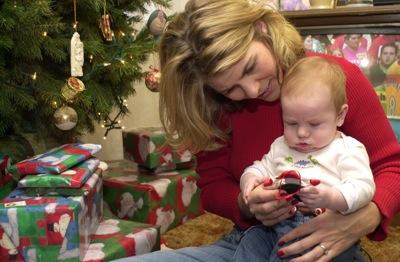 "I'll Be Home for Christmas," a popular tune recorded by Bing Crosby during World War II, holds special significance at this time of year for area residents with loved ones stationed in faraway places.
Greg and Joann Maltinsky of Minster are no strangers when it comes to marking the holiday without their son Paul, a member of the U.S. Army's First Infantry.
"This is the third year in a row we've had an empty place and a picture at the table," she says. "He'll be with us in spirit."
His gifts include a battery charger, extension ladder and Egyptian memorabilia including a camel statue and distinctive bust of King Tut.
"We bought Paul's presents just as if he would be home," the mother of three says. "Then we got out the digital camera and took pictures."
Faraway at Camp Victory in Baghdad, the soldier received an early Christmas packet containing letters and a small stack of "gift" pictures. Having spent a two-week leave sightseeing in Egypt and scuba diving in the Red Sea, he immediately latched onto the likes of Ramses and Tut.
The Maltinskys continue to decorate a large bush at the front of their North Main Street home in a show of support for U.S. military forces throughout the world. Red, white and blue lights illuminate the patriotic display.
"We tried to prepare ourselves for another holiday without Paul and then something happens to bring forth tears," she says. "It happened this year in the midst of making molasses cookies - his favorite. The pungent smell of those familiar ingredients was all it took."
Bill Stachler, serving with the U.S. Army's Third Brigade in Iraq, missed the Aug. 25th birth of his son Lincoln William. Now he will miss the infant's first Christmas.
"We do something every day to remember Bill in a special way," his wife, Tracy Stachler, says cuddling the little boy. "Baking cookies, taking pictures, writing letters and lighting candles for Bill are just some things we do."
The pair, who currently reside with her dad (Ben Wietholter) in Osgood, have placed special ornaments on the holiday tree. One bears the soldier's picture; the other honors his unit.
Lincoln recognizes his daddy's voice thanks to forethought, planning and a tape recorder. Tracy Stachler sent children's books to her husband's Iraqi base during the latter months of her pregnancy. Bill Stachler recorded himself reading the books and sent the tapes back, so they were ready and waiting when the little boy arrived. Lincoln now coos to the familiar voice on the telephone.
With mom's help, he even sent holiday greetings overseas. His message, in Tracy's handwriting, says "I've figured out this whole Christmas thing - soak Mom for as many gifts as possible."
The words are sure to bring a smile to Bill's lips, and the accompanying gift may move the soldier to tears.
"Bill and his dad always flew big remote-control planes," Tracy Stachler says. "Lincoln sent a small one hoping he and his daddy can start a tradition of their own come June."
Flags fly day and night at the Carthagena home of Dan and Nancy Hart along U.S. 127.
Philip Hart currently serves as a humvee commander during a second deployment in Iraq. Another son Jeffrey Hart, also a U.S. Marine, expects to head overseas next summer following advanced training at Fort Leonard Wood, Mo.
"This is something different for us," Dan Hart admits with a sigh. "Phil was in Iraq last year, but he came home before Christmas. This time he left in July and won't be back until February."
A tall flagpole holds the American flag along with the Marine Corps standard. Three banners from the Healing Field complete the display - one honoring Philip's unit, one for Jeffrey and the other in silent tribute to Tommy Hart, their great-grandfather and a World War I veteran.
The Harts and their other four sons will mark the holiday in traditional fashion - church, the opening of presents and special food like shrimp and hot wings.
"Phil told us to keep his gifts until February," the proud father says. "It will be Christmas all over when he comes home."
All the families express pride in their loved ones even though being together for the approaching holidays is something that will happen only in their dreams just like the song from a bygone era.