Monday, January 8th, 2007
Minster able to hold off Celina by a point
By Gary R. Rasberry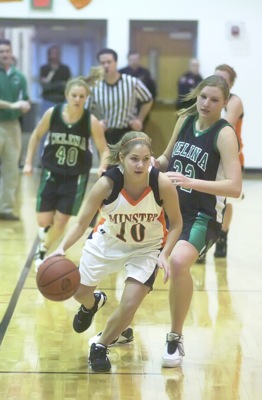 MINSTER - Minster had to fend off a number of challenges by Celina before escaping its home gym with a 52-51 win in a battle of Grand Lake area teams at Wildcat Gym.
The Wildcats snap a two-game losing streak to improve to 8-2 on the year while Celina drops its second straight to fall below .500 at 5-6.
Minster could not get more than a five-point lead on Celina all day and the Wildcats led 38-33 going into the final eight minutes.
The Wildcats maintained a small lead for most of the fourth quarter as Celina attempts to take the lead were answered by Minster.
A pair of Betsy Hone buckets cut the Wildcats' lead to 48-47 with 1:33 to go in the game. After Minster called timeout, Jodie Quinter went to the line for two, making the first but missing the second. Cenzie Yoder rebounded and looked deep to a sprinting Hone, who got the layup to tie the game for the first time since halftime at 49-all with 1:12 left.
"I thought our girls battled," said Celina coach Brian Stetler. "I didn't think we played particularly well at times, but there were times we played pretty well. We played well enough to stay in the ball game."
Minster went to the line on the ensuing possession. This time, Quinter missed the front end of the double-bonus, but got the second to put the Wildcats up one again. An errant Celina three-pointer was off the mark and rebounded by the Wildcats' Lisa Muhlenkamp, who was promptly fouled with 24.5 seconds left. Muhlenkamp made both tosses to make it a three-point Minster lead.
After Celina used its last timeout, the Bulldogs went to work looking for the hot-shooting Hone but instead, Liz Homan drove inside and hit a bunny to make it a one-point game.
With Celina having no timeouts, Minster didn't even have to inbound the ball to end the game.
"The second option (after Hone) was to step out," said Stetler about the final play. "No biggie. Betsy got us there at the end with some nice plays and she's our best three-point shooter. We just didn't get it done at the end. We didn't get the look. That's the way it goes."
Hone and Homan dominated the game for Celina. Hone was an outstanding 11-of-15 from the field for a game-high 25 points. Homan came up with a double-double, scoring 15 points and pulling down 10 rebounds.
"We let Hone get hot and she's just a phenomenal athlete," said Stechschulte "Between the two (Hone and Homan), they were 18-of-28, I think. We didn't do a good job of containing either one. That was our game plan."
Minster got balance as eight of the nine players that saw time scored. Danae Spieles made up for a 3-of-12 field-goal performance with a 6-of-8 day at the line for 13 points. Jodie Quinter added 10 points and seven boards with Kerri Watercutter scoring nine.
"At the end of the game, everything we asked the girls to do, they did," said Stechschulte. "We ran different sets and press breaks. They were young last year and I don't think we would have been able to do that, but they did what they had to do and put the free throws (16-of-25 on the day) in at the end to win it. Sometimes it just comes down to making plays."
"It was a good battle today. Too bad somebody had to come up short," said Stetler. "It was a back-and-forth good basketball game to the end."
Both teams are back in league play on Thursday. Celina travels to Kenton for a Western Buckeye League matchup as Minster plays host to Coldwater.