Wednesday, January 10th, 2007
Celina wrestlers return to the mat with WBL win
By Gary R. Rasberry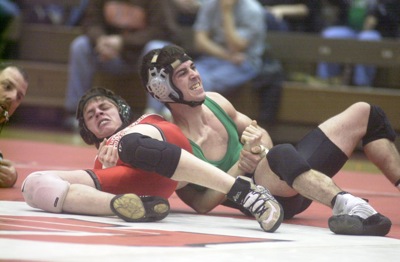 WAPAKONETA - Celina, coming back into action for the first time since before Christmas, improved to 5-1 in league dual matches with a 46-18 win over a short-handed Wapakoneta squad on Tuesday at Wapakoneta High School.
The Redskins, runners-up in the Western Buckeye League last season, drop to 3-2 in league duals this season.
MatDogs coach Tim Doner was happy, but did notice a little mat rust.
"It was a little too long," said Doner. "We had a few guys who were a little sluggish, but we looked good overall."
Celina was in control from the start, thanks to the Redskins having four voids in the lineup, meaning that before the first contested match of the night at heavyweight, the MatDogs already led 18-0 with voids.
Chris Wilkins made his match a quick one in facing Adam Byrne, scoring a pin with 13 seconds left in the second period after getting a takedown.
One of the more competitive bouts came at 103 as Celina's R.J. Baskett squared off with Redskin Tyler Kennedy. After a 4-all first period, Baskett got a reversal after starting down before Kennedy got an escape late to make it 5-4 Baskett going into the final two minutes.
In the third period, Baskett was hit with two violations earning Kennedy two points and an escape with a minute left made it 7-5 Kennedy before Baskett scored a takedown with 20 seconds left. Kennedy was able to get out to make it 8-7 with 12 seconds left. Baskett then looked to have a takedown, but got it after the horn to let Kennedy escape with an 8-7 win.
Two more Wapak voids made it 30-3 to set up the 125-pound battle between MatDog Seth Posada and Brian Bailey. Bailey, fourth in the WBL last season at 125, worked the takedown/escape attack, picking up the 12-6 decision.
Wapak got the overall score to 30-12 when Mitch Beemer pinned Cody Doner in 2:40 at 130 pounds, but Celina got back on the scoring track with two straight shutouts.
At 135, Celina's Nick Gray battled Joel Claybaugh and the Bulldogs' senior got two points in the first period, then picked up three back points in the second and then clamped down to earn a 5-0 decision.
Zack Gray battled Lucas Poppe at 140 in the true nailbiter of the night. After two periods of scoreless grappling, the younger Gray chose down to start the third. With 1:27 left in the bout, Zack Gray got the reversal on Poppe, the staved off a stalling warning to get the 2-0 win.
Alex Dues kept things going with a pinfall with one second left in the second period on Jon Carpenter at 145. Jordan Davis got the final MatDog win of the night at 152, recording a 10-1 major decision on Corey Bailey.
"Dues had a really good night," said coach Doner. "He kept moving pretty good. Davis had a pretty good match."
Wapak got consolation points in the final two bouts as Kenny Long decisioned Tyler Temple 14-9 at 160. Tyler Shipp followed with a 4-0 decision on Austin Trisel at 171.
"If Wapak had some of its voids filled, it might have been a different story," said coach Doner. "If they're filled, they're pretty good."
In the lone junior varsity match, Wapak's Tyler Matte decisioned Celina's Derek Minch, 12-9.
The MatDogs return to action next Thursday, hosting Coldwater and Bath.