Friday, January 12th, 2007
Short visit at #1 for Fort Recovery
Rangers knock off top-ranked Indians
By Ryan Hines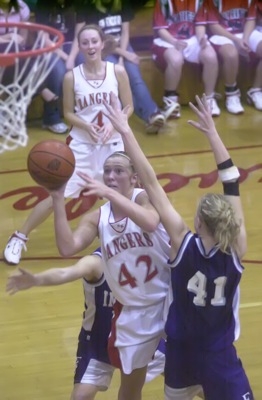 NEW KNOXVILLE - It was a short stay on top of the Division IV girls basketball state poll for Fort Recovery.
Fort Recovery took its number-one state ranking on the road Thursday night only to suffer its first loss of the season to New Knoxville, 42-38, in Midwest Athletic Conference action.
The Indians (11-1, 3-1 MAC) received the top ranking in D-IV on Wednesday, only to lose it one day later to the Rangers (10-2, 3-1 MAC). Delphos St. John's is the lone undefeated team remaining in the MAC (12-0, 4-0 MAC).
"There's a lot of good teams in the state and in this area, I was just hoping that we could hold onto it (number-one state ranking) for more than one day," said Fort Recovery head coach Jeff Roessner. "We knew that they would be motivated to beat us after beating them twice last year, but more than that, they're a good basketball team that's well-coached. They won the game by making the plays that win games."
New Knoxville head coach Tim Hegemier knew his girls would be ready for Fort Recovery at The Barn.
"Fort Recovery beat us twice last year and I think that our girls were really up for this game," said Hegemier. "We were 11-0 last year and then went to their place and got beat, so I guess it's kind of like a little payback. Maybe the number-one state ranking is a curse, but Fort Recovery will bounce back because they are a good team that's well-coached."
It was a physical defensive matchup that was won by New Knoxville with a big advantage at the free-throw line. The Rangers shot 19-of-26 at the charity stripe, including 12-of-15 in the second half, compared to an 11-of-16 performance for Fort Recovery.
"Making our free throws was huge, especially down the stretch," said Hegemier. "That's what you have to do to win games like these against good teams."
Roessner knows his team fouled too much.
"The foul trouble for us early on hurt us, I thought," said Roessner. "We had some of our guards on the bench when we would have loved to have seen them on the floor more. I can't complain about the officiating because we fouled them."
Despite the foul trouble, Fort Recovery held the lead for the entire first three quarters and held as big as a five-point advantage before New Knoxville began to mount its comeback.
Although Fort Recovery held the lead in the game for the first three quarters, the Indians never held an advantage in the fourth quarter once the Rangers found some offensive rhythm.
New Knoxville's Casey Horstman hit a pair of free throws to tie the score at 28-28 just 30 seconds in the fourth quarter before Nicole Wright and Brooke Niemeyer each hit field goals to give the Rangers their biggest lead of the game at four points, 32-28.
Fort Recovery tied the game on four straight free throws from point guard Vicki Roessner, but New Knoxville converted on eight-of-10 at the free-throw line down the stretch to retake the lead and seal the win.
"We won this game tonight because we played really good defense and we were able to convert at the free-throw line late in the game," said Hegemier.
Wright was the main beneficiary at the charity stripe hitting seven-of-nine there and finishing with 11 points, nine in the second half, and a game-high 15 rebounds. Haley Kruse added nine points for the Rangers.
Abby Niekamp led Fort Recovery with 11 points, nine in the first half on a trio of three-pointers, while Roessner added nine points.
Fort Recovery is back in action again on Tuesday at the Classic in the Country against Green at Berlin Hiland High School.