Friday, January 19th, 2007
Cavaliers win thriller at home over Rangers
By Ryan Hines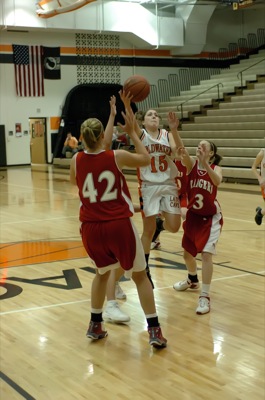 COLDWATER - Don't look now, but it appears that Coldwater may have been able to turn its season around.
Well, at least they got a good start on a possible turnaround with a 49-47 upset victory over state-ranked New Knoxville on Thursday night at The Palace.
It's the second-straight triumph for Coldwater (5-8, 2-3 MAC), which ended an eight-game losing streak with a 30-point win over Lima Senior on Tuesday night. New Knoxville, ranked 11th in the most recent Associated Press girls basketball state poll, drops its second straight and is now 10-3 overall and 3-2 in the conference.
"I think that without a doubt we gained some confidence with the win on Tuesday and it looked like we carried that confidence into tonight and beat a very good basketball team in New Knoxville," said Coldwater head coach Nick Fisher. "We've preached that turning our season around starts in practice and I think that I've started to see signs of that."
Coldwater looked in control with a 10-point lead (41-31) at the 7:07 point in the fourth quarter when New Knoxville went on a 16-6 spurt to tie the game at 47-47 with just over a minute to play. The Rangers' Jessica Katterheinrich drained a three-pointer to erase the Cavaliers' double-digit lead and force a Coldwater timeout.
"You know that New Knoxville is a very good team and that they're going to make a run and they did that in the fourth quarter," said Fisher. "They have good veteran players on their team that have made comebacks before. I also thought that we had some possessions during that span where we didn't do the things that we wanted to do with the ball on our side that aided their comeback."
The Cavaliers came calmly out of the timeout with a designed pick-and-roll between Brooke Gross and Kendra Robbins and it worked to perfection. Robbins set the pick and sealed off the defender before Gross lobbed a perfect pass leading Robbins to the basket for an easy deuce to give the Cavaliers a 49-47 lead.
Brooke Niemeyer came up empty on her long jumper in an effort to tie the game and Robbins grabbed the rebound.
Robbins, who had hit eight straight free throws to start the game, went to the line for a one-and-one opportunity to seal the win for Coldwater but she missed the front end with New Knoxville grabbing the rebound.
The Coldwater defense stepped up, though, in the finals seconds as Nicole Wright's desperation trey at the buzzer was way short.
Robbins was the big scorer for the Cavaliers with a game-high 16 points while Gross contributed 11 points to go along with Tasha Stucke's nine markers.
"We've talked to the girls about having more of a scorers mentality when they have the ball and I think that we saw some of that tonight from several different individuals," said Fisher. "We had several different girls step up for us tonight and hit big shots."
Wright and Alycia Niemeyer led New Knoxville with 12 points apiece while Brooke Niemeyer finished with nine.
Coldwater will look to make it three wins in a row on Saturday at Fort Loramie while New Knoxville will look to prevent a three-game skid on Tuesday at Lincolnview.