Monday, January 22nd, 2007
New exhibit shows rare exercise system and Celina Huffy bikes
By Janie Southard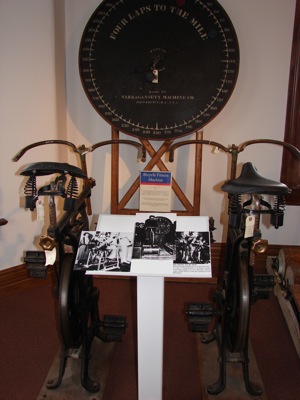 NEW BREMEN - The Bicycle Museum of America has added a rare pair of bikes to its more than 300 two- (or three-) wheeled collection.
Manufactured by the Narragansett Machine Company out of Providence, R.I., in the 1890s, these two stationary bikes are linked to an 8-foot tall dial that records how far the riders have traveled via two timer hands.
Four complete laps around the dial equals one mile, which in its day made for exercise incentive and some real good wagering opportunities. The winner was the one who first reached the predetermined distance.
According to part-time museum employee Jim Elking who assembled this exercise system after it was shipped from an auction house in Rhode Island, this type device was available back in the day at several area YMCAs.
Retired engineer Don Seyfried, who also volunteers at the museum, said he's applied for a copy of the patent for the Narragansett pair.
Also in the exercise area of the museum is an alarming looking, no-wheel metal bike on which the rider simply sits (on a metal seat) while the electric motor-driven bike exercises the rider.
Moving on to the Huffy room, there are 30 new bikes on loan from Huffy. The unique aspect of these bikes is they were all made in Celina and were all in their original cartons when they arrived at the museum.
Seyfried told The Daily Standard during a tour of the museum last week that the Celina Huffy plant had "an amazing assembly line."
Former Huffy employee Marla Mallory, who worked on one of those amazing lines, told the newspaper they could make a bicycle in 31/3 minutes. When the plant was running five lines on three shifts, one day's production totaled more than 22,000 bikes.
Also in the museum's collection is the last bike made at the Celina plant, which closed in 1998.
Museum Curator Annette Thompson, an enthusiastic lady who has personally ridden one of the old-fashioned high-wheelers around the block, pointed out a one-of-a-kind bike in the new Huffy group: a 1993 Fancy Cruiser that sports a matte gold paint job.
"This was a Huffy prototype. It's the only one ever made," Thompson said.
The museum itself is unique and has its origin in the Schwinn Bicycle collection, which was purchased in Chicago in 1997 by Jim Dicke II of Crown Equipment Corporation.