Friday, January 26th, 2007
Bulldogs dominate dual matches
By Gary R. Rasberry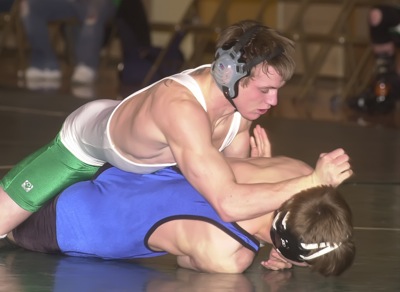 Fresh off a strong showing at the Indian Lake Invitational, the Celina wrestling team rolled in a pair of dual-match wins on Thursday at the high school gymnasium.
The opening win came in Western Buckeye League action as the Matdogs beat Defiance 54-17 to improve to 7-1 in league duals this season. In the nightcap, Celina pulled away for an easy 56-20 win over Urbana.
"Defiance is another big league match for us," said MatDogs coach Tim Doner. "Urbana is usually tough, but they had some voids. The kids they do have are pretty good."
The matchup with Defiance saw Celina put together a major breakaway in the middle weights. Nick Gray, who moved down to wrestle at 130 for a while, got things going with a pin over Cody Mannon to start the big run in 44 seconds.
Cody Doner followed with a 10-1 major decision on Clay Roehig while Zach Gray one-upped big brother Nick by scoring a pin in 39 seconds on Kyle Eskillus at 140 points. Alex Dues and Jordan Davis kept up the pin parade with falls at 145 and 152.
After Celina took a void win at 160, Defiance came through with a win as Glen Ward scored an 11-9 overtime victory on Derek Minch, who was filling in for the injured Austin Trisel.
Celina gained wins via the void at 189 and 215, before Chris Wilkins battled James Rodrigez at 285. A close battle saw Rodrigez pull out the 4-3 win to wrap up the match.
Wilkins, who earned a full-time spot in the lineup this season with a solid preseason and a wrestle-off, bounced back to even out his night with a pin in 39 seconds against Urbana's John Cox. Coach Doner is happy with the way his senior has shined this season.
"He's really stepped it up this year," said Doner. "He's finding some good techniques and getting the job done."
Celina had little problem with the Hillclimbers in the second match of the night. Urbana voided out five weights to give Celina 30 points. The contested matches were solid, with Urbana 135-pounder Shaun Stanhope and 215-pounder Robby Weisenberger - a state qualifier last season - picking up impressive wins.
The Gray brothers finished with two pinfall wins each for the Bulldogs.
The MatDogs are back in action on Saturday, traveling to Warsaw to take part in the River View Invitational. Next week, wrestling will take over the Fieldhouse as Celina hosts Ottawa-Glandorf, Lima Senior and Indian Lake for a quad on Thursday, then brings in some of the area's best for the Lions Invitational on Saturday.