Tuesday, January 30th, 2007
St. Marys man dies due to fire at his home
By Shelley Grieshop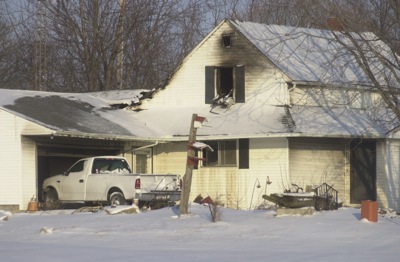 A 59-year-old St. Marys man died Monday night after trying to escape his burning home.
Thomas H. Nuesmeyer, 14075 state Route 116, was pronounced dead at 8:39 p.m. in the emergency department of Joint Township District Memorial Hospital, St. Marys, about 30 minutes after firefighters found him unconscious on the floor near his front door.
Family members said Nuesmeyer underwent knee replacement surgery just three weeks ago and speculate he may have struggled to get out of the home before being overcome by thick smoke.
The cause of the fire remains undetermined, however, St. Marys City Fire Chief Ken Cline said he suspects an electrical problem near the rear of the home may have ignited the blaze. A dollar amount has not been set, however, the home is considered a total loss. The State Fire Marshal's office has been called to assist in the investigation, as is standard procedure in a fatal fire, Cline added.
Nuesmeyer, a self-employed carpenter, survived a near fatal accident more than two decades ago, his sister-in-law, Anna Kay Nuesmeyer of St. Marys told The Daily Standard this morning.
"He suffered a very bad head injury 22 years ago and almost died," she said.
A neighbor reported Monday's fire at 8 p.m., and city firefighters arrived on the scene four minutes later, Cline said. The rear of the two-story home was engulfed and flames shot from the front windows and the roof as firefighters approached.
"We initially knocked it down from the rear then went around to the front," Cline said.
The door was locked so firefighters kicked it in and found Nuesmeyer behind it, Cline said.
"It was pretty sad that someone got that close to getting out," he added.
Firefighters attempted to resuscitate Nuesmeyer while St. Marys Township firefighters were summoned to help fight the fire. The squad arrived at 8:10 p.m. and transferred Nuesmeyer to the hospital.
Cline said firefighters did not know if the home was occupied when they arrived. Nuesmeyer, who is divorced, lived alone, the family confirmed today.
Cline said high winds helped fan the fire, making it difficult to extinguish. Also, water from the hoses froze as it hit the ground, making it tough for firefighters to keep their footing. The low temperature overnight was 14 degrees.
A total of 40 firefighters battled the blaze. One of the city firefighters was treated and released at the hospital after suffering a minor hand injury, Cline said.
The last fire truck arrived back on station at 1:26 a.m. today.
"The guys did a tremendous job getting him (Nuesmeyer) out, it just wasn't soon enough," Cline said, adding the home likely was burning a while before it was reported.
Nuesmeyer was a U.S. Army veteran of the Vietnam War and a current member of the clown unit of the VFW in St. Marys. The unit nearly disbanded a few years ago, and Nuesmeyer was instrumental in bringing it back, his sister-in-law said.
"He was quite proud of it. He used to ride (as a clown) in the parade with his granddaughters. His daughter, Mandi, made his costume and the girls' outfits," Anna Kay Nuesmeyer said.
A St. Marys native, Thomas Nuesmeyer was known for his carpentry skills. He liked boating and loved people, she said.
"He knew a lot of people from his work around the area," she added.
Nuesmeyer is survived by three daughters, a son and two granddaughters, and was the oldest of four siblings. His mother, Irene Nuesmeyer, died three months ago.
A full obituary will appear in Wednesday's edition of The Daily Standard.