Friday, February 2nd, 2007
Blue Jays stay perfect on the season
By Randy Bruns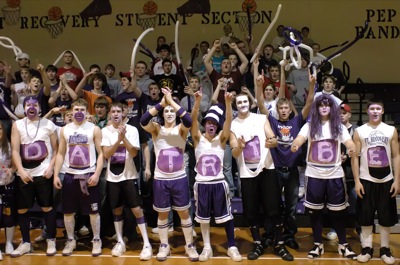 FORT RECOVERY - Highly-touted games don't always live up to their hype, but Thursday night's tussle at the Fort Site Fieldhouse certainly did.
The Delphos St. John's Blue Jays came in with an unblemished record and the number-four ranking in Division III, and they proved their mettle under fire with a 46-44 victory over the Fort Recovery Indians, who are currently ranked third in Division IV.
St. John's moves to 16-0 on the year and clinches at least a tie for the Midwest Athletic Conference title with its 7-0 league mark. Fort Recovery falls to 14-3 overall and to 5-2 in the conference.
The game was played before a tournament-type atmosphere, as plenty of fans from both schools showed up to cheer their lungs out for the ladies. In return, they got to see a whale of a basketball game.
The first quarter showcased the team's contrasting styles, as the long-range gunning Blue Jays hoisted up three-pointers galore and the more patient Indians tried to use their size advantage in the paint. Both strategies paid off at times, but neither team could get a whole lot going offensively and the opening frame ended with the Indians on top 9-6.
St. John's caught fire in the second stanza, as it hit on six-of-nine from the field, including three-of-five from behind the three-point arc, to take a 21-20 lead going into intermission.
When the second half began it was the Indians' turn to put on an offensive clinic, as they hit three of their first four shots and vaulted out to a 31-25 lead.
Just as things were looking good for the hosts, however, the
Blue Jays came storming back. The visitors went on an 11-0 run throughout the rest of the third quarter to build a 36-31 bulge going into the final frame.
The Blue Jays still held a five-point advantage with 40 seconds left in the game, but missed free throws gave the Indians an opening and they got within two on Sara Fortkamp's stickback with just under nine ticks remaining.
After a pair of timeouts, the Blue Jays turned the ball over on an inbounds play, and the Indians got one last chance to tie with 2.8 seconds left. Tiffany Gaerke got a good look at a jumper from the wing but it bounced off the rim as time expired to give the visitors the victory.
"We thought it would be a pretty good matchup, and it didn't disappoint," said Fort Recovery coach Jeff Roessner. "There was a stretch there when we had the lead but turned it over on three or four straight possessions, and that put us in the position where we had to play catch-up the rest of the game. But to our kids' credit, they did a good job of trying to execute what we were trying to do."
St. John's coach Dan Grothouse was relieved to see his team pull off the big win in a hostile environment.
"To come in here and win a game like this on the road against a quality opponent, it just says a bunch about our team," said Grothouse. "It didn't look good for us, because we didn't shoot the ball extremely well, but their defense had a lot to do with that. We knew coming in that it would be a struggle just to get shots, and we made just enough when we needed them."
Brittany Pohlman led a balanced Blue Jays scoring attack with 10 points, and Laura German and Kim Miller added nine apiece.
The Indians were led by 13 points from Holly Stein, who scored her 1,000th career point in the second quarter.
Fort Recovery returns to action Tuesday when it travels to Celina to face the Bulldogs.