Wednesday, February 7th, 2007
Snow arrives
Road conditions blamed for death of Bremen woman in crash; Grand Lake residents dig out
From staff reports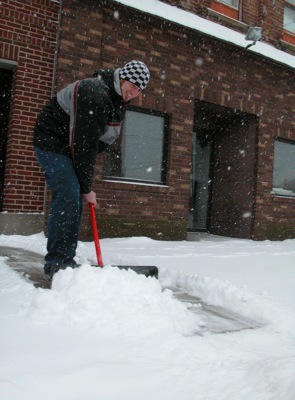 A winter blast dropped more than 3 inches of snow on the Grand Lake area, causing the cancellation of classes at all schools in Mercer and Auglaize counties today.
Many of those same schools had operated on delays Monday and Tuesday due to dangerously cold temperatures.
Snowy road conditions are being blamed for the death of a New Bremen woman, killed in an accident in Shelby County on Tuesday afternoon.
Cecilia Hardee, 53, of New Bremen, was killed at the intersection of state Routes 274 and 29, west of Kettlersville. Details of the crash were unavailable at press time.
Throughout the area, people with snowblowers and shovels worked to clear out driveways, sidewalks and storefronts.
Workers at the Celina Post Office this morning struggled to push mail carts through the snow to load up delivery vehicles.
"It's a little slower than normal; everybody's just trying to get used to it," said Scott Wurst, supervisor of customer service at the Celina Post Office. "People should expect to get their mail a little later today, but they'll still get it."
Celina city street crews went out about 1 a.m. this morning, salting and plowing streets, a spokesman said. The city had five dump trucks and six pickup trucks working main thoroughfares and side streets. Most streets were cleared by about 5:30 a.m. when crews then turned their attention to the city's alleys.
City water distribution workers have been kept busy over the past couple of days with frozen water lines. Those problems were beginning to subside this morning as the temperature gradually rose.
The Mercer County highway garage had all 13 of its available plows on the road, and they will remain out until the roads are clear, a spokesman said. County crews rolled at about 4:30 a.m. this morning.
The local Ohio Department of Transportation garage reported its crews began plowing state routes in Mercer County around 12:30 p.m. Tuesday and have had 10 to 12 plows on the road ever since, a spokesman said this morning.
Grand Lake St. Marys State Park Manager Craig Morton this morning said there has been no ice-related injuries or incidents reported on the lake, which still has open water and soft spots in some areas.
He expects snowmobilers and those ice fishing to take to the lake this weekend and cautioned anyone planning such activities to be extra careful.
"We tell everybody the ice is inherently dangerous, and we advise them to check the ice safety for themselves," Morton said today. "If we see people ice fishing we will stop and ask them the ice thickness and pass that information along to people who ask."
Morton said anyone venturing out on the frozen lake should wear warm clothing in multiple layers, take a cell phone, life jacket, ice picks to pull themselves out of the water if they fall through the ice and use the buddy system. They should also tell someone where they are going.