Friday, February 9th, 2007
Gaerke steps up her game for Fort Recovery
By Ryan Hines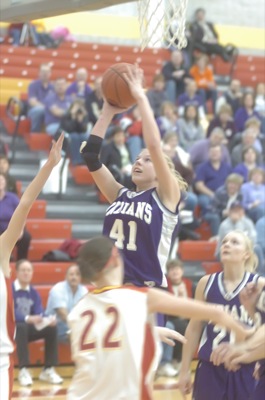 NEW BREMEN - When Fort Recovery head coach Jeff Roessner came to the realization that his team would be playing without its leading scorer for the first time in four years, he knew that he needed someone else on the team to step up.
Tiffany Gaerke was that person for the Indians on Thursday night as the senior post players scored 17 points and added 15 rebounds in Fort Recovery's 49-41 victory over New Bremen in Midwest Athletic Conference action at Cardinal Gymnasium.
"Tiff was just tremendous for us out there tonight. Wow! What a performance," lauded Roessner. "This is the first time I haven't had Holly (Stein) available in four years and we needed someone to step up and Tiff did that for us tonight."
Gaerke's performance was needed as Fort Recovery was playing without leading scorer Holly Stein (nearly 14 points per game), who tore a tendon in the arch of her right foot last Thursday, just three minutes into the Indians' loss to MAC champion Delphos St. John's. Roessner says that Stein will be out for two more weeks.
"We really don't have anybody to matchup with her," said New Bremen head coach Dave McFeely speaking about Gaerke. "We're kind of undersized and it was a factor tonight."
Without Stein in the lineup, the Indians' offense sputtered at times and New Bremen took full advantage.
It was a tied game early in the fourth quarter, at 36-all, when New Bremen's Stephanie Winner scored two of her team-high 12 points on a short jumper, but Fort Recovery went on a game-changing spurt which was sparked by some big shots from its backcourt.
Gaerke broke the 36-36 tie with a deuce and then Sara Fortkamp canned a trey from the corner to put the Indians up five points leading to a New Bremen timeout at the 5:40 mark.
"That was a set play that we run for Sara because she's capable of hitting that shot and she hit a big one for us in the fourth quarter from the corner," pointed out Roessner.
The Cardinals came out of the timeout and got a free throw from LeAnn Topp, but then Vicki Roessner drilled a three-pointer from the top of the key pushing the Fort Recovery lead to seven points at 44-37.
New Bremen never got any closer than six the rest of the way.
"I don't believe in moral victories, but this is as close as it can get. I come away from this game feeling proud of our team," said McFeely. "We just didn't hit some shots at times and they took advantage."
In addition to Gaerke's double-double, Roessner hit double figures with 11 points for Fort Recovery.
NOTES - The New Bremen girls game against Spencerville is rescheduled for 2 p.m. (JV start) on Saturday. ... New Bremen will also be honoring the 1976-77 boys regional runner-up basketball team during halftime of the boys game on Saturday night against Jackson Center. ... Fort Recovery suffered another injury in the pregame warmups as Sam Staugler, who was returning from a previous injury for the first time this year, hurt her knee in a noncontact drill.