Thursday, February 15th, 2007
Still a force to be reckoned with
By Margie Wuebker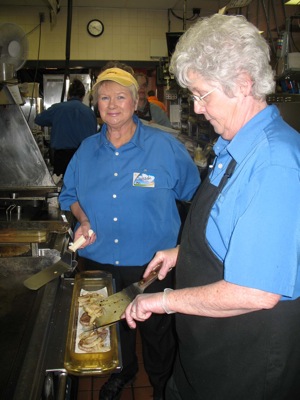 There is plenty of silver hair at the golden arches in Celina, but owner Mary Monfort and manager Josh Vorhees do not mind it the least.
"Older workers add such stability to the workforce here at McDonald's," Monfort says. "They serve as good role models for younger employees."
Three crew members - Pat Hittle, Judy Piper and Carolyn Leffler - comprise the coveted senior brigade at the local fast food restaurant.
Leffler surveys the dining area with coffee pot in hand and heads toward customer Carl Cook seated with other members of the morning crowd. His coffee cup does not remain empty for long.
The 72-year-old grandmother, who Vorhees calls his "poster senior," retired as court stenographer at Mercer County Common Pleas Court in 1992 after 27 years of service. She served as courthouse law librarian until 2006 and also operated Effie's Edibles, a mobile lunch stand popular at auctions and other special events.
Leffler initially spent several months at home after leaving the librarian position. She enjoyed cooking and spending time with family, but there were still many hours to fill. She and hubby Don have six adult children.
"I was not ready to sit in a rocking chair and collect dust," she says with a smile. "I started here in April, and I just love it."
See FORCE, page 2
Hittle, at 63, seldom stays in one place for long. There are so many things to do - pulling meat for breakfast, fixing scrambled eggs and preparing sandwich buns.
Vorhees likens her to the Energizer Bunny because she keeps going and going and going.
"Older employees have a different work ethic," he adds. "They see things that need attention and take the initiative without being told."
Hittle admits she frequently foregoes breaks because she likes staying busy. Her schedule typically runs 7 a.m. to 2 p.m. four days a week.
"Working with all these young people keeps me feeling young," she says with a chuckle. "I have no favorite duties here because I enjoy them all."
Hittle, the mother of seven grown children, retired from Trim Trends in Spencerville after 28 years of service. It was not long before she donned a McDonald's uniform - blue shirt and black slacks - and went back to work. Next month marks her 11th anniversary there.
"I would be bored if I stayed home all the time," she says. "My children think the time has come for retirement, but I don't feel old enough at this point."
Her husband Gary provides transportation to and from work because he is retired. She has not been tempted to follow suit as yet.
Piper, at 66, discovered there were too many hours in the day to fill after working at Huffy Manufacturing Co. for 31 years and Sieman's Automotive in Lima for another four.
"I'm a short-timer," she says with a chuckle. "I tried to officially retire, but I need to keep busy and the extra money certainly helps."
Piper, the mother of three, joined the kitchen crew 2 1/2 years ago after the Lima company moved to a new city leaving her with no insurance and too many months to go before Medicare.
Her duties range from salad and parfait prep work to manning the drive-through window. In between times, she dismantles cardboard boxes for recycling.
Getting up for the morning shift is no problem because her "biological clock" rings around 4 a.m. after decades of arising long before dawn. She prefers weekdays, allowing the younger set to work weekends.
"I have a girlfriend who is counting the days until she can retire," Piper says. "She better have lots of hobbies because watching television is so boring."
The women are not alone as the Senior Job Bank reports nearly 4 million older Americans are currently in the workforce. The numbers are expected to grow dramatically as Baby Boomers approach retirement age, especially since Social Security benefits are not subject to penalty for earning money after the age of 65.
"There is a whole crop of senior citizens waiting to take our place at some point," Hittle says. "Until then it's work as usual."