Saturday, February 17th, 2007
Flyers nearly cost Rangers perfect season
By Randy Bruns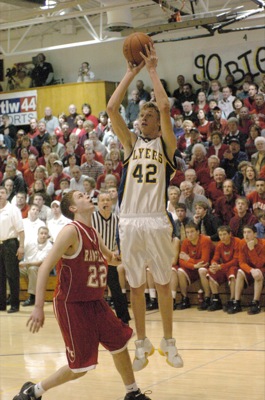 MARIA STEIN - It's a cliché uttered time and again, but winning league games on the road is no easy task.
Just ask the New Knoxville Rangers.
The Rangers - ranked number two in the state in Division IV - took on the Marion Local Flyers and their .500 record Friday night at the Hangar and dodged a major bullet by pulling out the win in a 61-57 double overtime thriller.
New Knoxville keeps its overall record perfect at 18-0 and moves its Midwest Athletic Conference mark to 8-0, while Marion falls to 8-9 on the year and 4-4 in league action.
The Flyers showed from the get-go that they would be no easy mark on this night. After the Rangers scored the game's opening points, the hosts went on top and never trailed the rest of the first half.
The Flyers lead came despite a monster performance from Ross Stienecker. The Ranger senior tossed in 19 points in the first half, including a pair of second quarter free throws that pushed him over the 1,000-point mark for his career.
The Rangers looked to take control early in the third quarter, as they capitalized on four Flyer turnovers to score six straight points that gave them a 31-29 advantage. The Flyers stormed back, though, and later reeled off 11 unanswered markers to build a 42-34 lead.
New Knoxville quickly countered with its own burst, as it capped off a nine-point run early in the fourth to take a 43-42 lead. Things stayed tight the rest of the way, as Stienecker later drove the baseline to give the visitors a two-point lead but Greg Hartings canned a foul-line jumper to tie the game with just under a minute left.
Both teams had chances to win at the end of regulation, but New Knoxville missed a three-pointer with five seconds left and Hartings missed under heavy pressure at the buzzer. Some controversy ensued after Hartings' miss, as a foul was called on New Knoxville but a conference of referees concluded that time had expired before the whistle was blown.
The Flyers started overtime with a bang, as Chris Stucke drilled a pair of three-pointers to give his team a four-point lead. Josh Niemeyer later hit a long ball of his own to bring the Rangers back within one, and after a Flyer free throw, Austin Luck hit a bunny to tie things with 12 ticks left. Marion had a last chance to win, but Stucke's runner before the buzzer was blocked.
By the time the second overtime rolled around it looked like both teams were running on fumes. The Rangers got a free throw from Niemeyer and then a layup by Austin Arnett to take a three-point lead, and though Stucke answered with a pair of freebies, Niemeyer hit a bunny to put the visitors back up by three. The Flyers later got a look at a potential tying three-pointer, but it wouldn't fall and the Rangers were able to salt the game away.
"Hats off to Marion Local - those kids are tough players," said a relieved New Knoxville coach Dan Hegemier, who surprisingly notched his first ever career win at the Hangar. "I thought we had some slow feet and we did not execute in our half court even though we worked all week on it. We just did not do a good job, and credit Marion for that."
Though he stopped short of calling it a moral victory, Marion coach Keith Westrick was more than pleased with his team's effort.
"After some of the outings that we've had this year, to take on the challenge of playing an athletic team of this caliber and play well, I definitely wouldn't label it a moral victory, but it's encouraging," said Westrick. "It shows what this group can do when they get focused and decide what they want to do. We had some chances to lose our composure, but we were able to run our last second plays they way we wanted and they just didn't fall."
Stienecker ended with a typical huge game on the night of his milestone points, as he poured in a game-high 29 markers. The senior was dead on all night, as he hit on seven-of-nine from the field and 15-of-17 from the charity stripe. Niemeyer joined him in double digits for the Rangers with 11 points.
Stucke and Hartings paced the Flyers with 16 and 14 points, respectively.
Marion goes out of the frying pan and into the fire tonight, as it travels to Russia to take on the number one ranked Raiders. New Knoxville is off until Friday when it hosts the resurgent Blue Jays from St. John's.