Saturday, March 3rd, 2007
Coldwater duo fall in Friday matches
By Gary R. Rasberry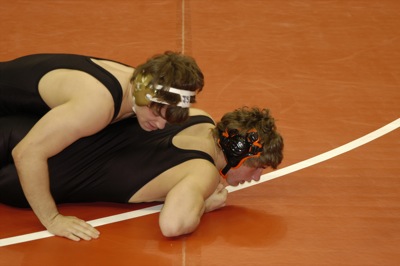 COLUMBUS - The Coldwater duo of Tyler Kunk and Lucas Homan went into Friday with just one focus.
Both needed just one win to earn themselves at least a spot on the podium come this evening at the awards ceremony.
In the end, neither could find the opening to keep their seasons alive, picking up their second loss each in the second round of consolations at the 70th State Wrestling Tournament in Columbus.
Kunk faced off against Mechanicsburg's Blaine Klaus in a rematch of the 171-pound district championship match. Klaus, a state placer from last season, got the match started in a strong way with takedowns and back points. Kunk was unable to get any sort of attack going, managing just two points as Klaus moved on with a 10-2 major decision.
"You get down here and make mistakes. You can't make mistakes when you get here," said Kunk, who is just a junior. "I'm young, I'll get another chance to make a trip next year."
Kunk ends his season with a 44-6 record. The 44 wins is second best in a season for a Cavalier wrestler. For his career, Kunk is 114-28, rising to fifth on the school's career win list. When next season comes along, Aaron Alig is next on the list with 119 wins. Andy Schmidt, a 2006 state qualifier placing eighth, holds the school record with 130 career wins.
Homan had to battle Waynedale's Jared Neff in his consolation bout at 189 pounds. Neff caught Homan early and kept Homan down for most of the match, getting a 7-2 win to earn a spot on the podium.
Homan's season ends at 41-12, with the 41 wins good for fifth best in a season at Coldwater. Homan ends his career at 83-27.
"I felt pretty confident going into the match," said Homan. "I knew it was now or never and I wasn't going out without guns blazing. It didn't work out for me at the end. I tried, and I lost to somebody better. I can live with myself for that."