Monday, March 5th, 2007
Cisco takes seventh
By Gary R. Rasberry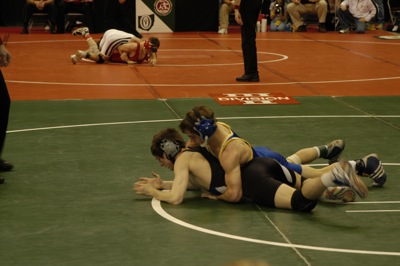 COLUMBUS - The path to Columbus for Josh Cisco started two years ago when he went to watch older brother Caleb compete at the state meet.
Last year, the younger Cisco had the chance, but did not reach his goal of making the podium.
This year, a season with plenty of turns ended in Columbus again and although he did not reach his goal, he achieved the goal many a wrestler desires - to win his last match.
The St. Marys 112-pounder concluded his career with a win over Bexley's Jake Weisman to take home seventh place in Division II at the 70th State Wrestling Tournament at the Schottenstein Center on the campus of The Ohio State University. Cisco is the third Roughrider to place at the state meet and the second in three years.
"After yesterday's loss (in the consolation quarterfinals, dropping him to the seventh-place match), I just had to recuperate and get back in it for the last match," said Cisco, who ends his senior season with a fine 35-2 record. "I just went out there and had a good time and just wrestled my match."
Cisco got things going right away, taking down Weisman early for the 2-0 lead. In the second period, Cisco chose down and got the escape, followed by another takedown to make it 5-0 going into the final two minutes.
"After that first takedown, it boosted my confidence a little more and made me more ready for the match," said Cisco.
Weisman chose down and escaped himself. In the final 20 seconds, Weisman used a flurry of moves to score a takedown to get as close as 5-3, but Cisco went directly to his stomach, preventing Weisman an easy chance to turn him over for back points. Cisco went into prevent mode the rest of the match to secure the win.
"I just wanted to make sure I didn't go to my back," said Cisco. "I just went straight to my stomach."
The win and spot on the podium completes the journey that dated back (Continnued from page 1B)

when Caleb Cisco went to state and finished fifth at 103 pounds in 2005. With the two being close in size, it was automatic that the pair were sparring partners through the years. Not only in practice, but also in the basement of their St. Marys home.
That helped Josh work harder to make his own trek to the mats at the Schott.
"It's an experience you have to have for yourself," said Josh. "From year-to-year, you just keep getting better and hope you can make it here."
Josh is appreciative of what Caleb has done to help him make it to state.
"We still go at it in the basement a lot," said Josh. "I'd have to thank him for a lot of hard work put in. He's been there for me throughout the whole thing. He's been a good leader to me."
But the sibling rivalry, which has made for some fierce sparring battles in the basement, didn't quite elude Josh when asked if he was satisfied with placing seventh.
"I'm glad I won my last match, but I was really hoping to be in the top three," said Josh. "My main goal was that I really wanted to beat (Caleb's) placing. I guess, it didn't go as planned."