Thursday, March 1st, 2007
Mercer County Fair may sell beer
Board supports alcohol sales; others in the community not sold on the idea
By Timothy Cox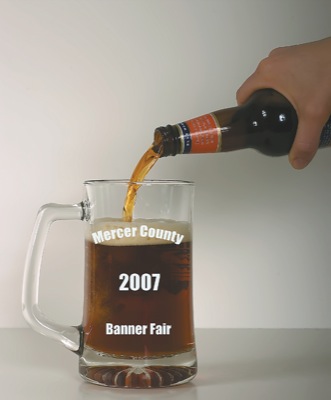 Beer could be sold at the Mercer County Fair for the first time this year.
Fair board members discussed the sale of beer about a month ago, although not everyone is happy about the decision. If fair officials follow through with their plans, the local fair would become one of only a handful of county fairs in Ohio to sell beer.
At their February meeting, fair board members voted in favor of potential alcohol sales. But that does not mean beer will definitely be sold at the fair, board President Steve Seitz said. Details of the plan must still be worked out, Seitz said. Fair officials also want to gauge public support for the idea, he said.
Beer sales would be a huge new source of revenue for the fair, which runs Aug. 8-14, Seitz said. Critics of the proposal, however, point to numerous negative aspects they say far outweigh the extra money coming in.
"Is it a done deal? No it's not," Seitz said. "We want to see the community's take and decide what rules would be in place."
Seitz said no specific details have been determined but said beer sales would almost certainly be limited to a "beer garden" area. Fair officials also would consider beer sales in the grandstand, but that also must be worked out, he said.
Local fair officials began discussing the issue after the state fair managers convention held this winter. A seminar about how to properly handle beer sales was held, drawing fair organizers from across the state, Seitz said.
"It was a standing room only meeting," he said, adding he believes numerous county fairs could end up selling beer this summer. Auglaize County is the only local fair where beer is currently available.
Fair officials then discussed the issue with other county leaders before last month's board vote, Seitz said. County commissioners were "supportive but concerned," Seitz said.
County Sheriff Jeff Grey has taken a neutral position but did weigh in with concerns he has about the plan. A copy of Grey's letter to the fair board was obtained following a public records request by The Daily Standard.
"While I don't think it appropriate for me to oppose or endorse the issue, I do believe I can offer some issues for the board to consider," Grey said.
Grey cited several issues for board members to consider, including additional insurance and security costs, liability issues, public perception and training of beer vendors.
The sheriff's office now charges the fair a reduced rate of $6,000 to provide security during fair week. The lower rate is offered because no alcohol is sold, which requires less law enforcement oversight, Grey said. The sheriff has estimated the fair would pay an additional $5,600 to have deputies patrol the beer garden and grandstand and respond to any problems that arise.
Grey raised other concerns, also. He noted past problems involving alcohol during the fair's demolition derby event. Alcohol has since been banned from the pit area but that ban would be harder to enforce with legal sales of beer going on, Grey said. He also raised concerns about the possibility of ride operators lawfully purchasing alcohol before returning to their posts. Grey also expressed concerns about traffic in the tightly packed fairgrounds parking area and the possibility of increased accidents, including alcohol-fueled hit-skip crashes.
In an e-mail being circulated by people opposed to the plan to sell beer, critics say fair officials are looking only at the financial bottom line and ignoring the potential negatives of allowing alcohol consumption at the fair.
The e-mail cites the "in-creased number of intoxicated people walking the midway, intoxicated ride operators, intoxicated people driving from the fairgrounds, an increase in unruly behavior, the need for increased police presence and the inability to police underage consumption," as well as other issues.
"Mercer County is known as the drinking capital of Ohio, and by serving alcohol at the Mercer County Fair, we will continue this negative stereotype and the image of Mercer County will be damaged," the e-mail says, urging people to contact fair board members and county commissioners about the issue.
The beer issue is not on the agenda for the board's Tuesday meeting, but fair officials are expecting a number of people to show up to discuss the issue, fair board Secretary Jackie Lacy said. Because of that, the meeting has been moved from the regular location in the secretary's office to the former Fraternal Order of Police building near the fairgrounds' main entrance. The building is now simply known by fair officials as the "blue building." The meeting starts at 7:30 p.m.
"I know there's going to be some people there, so we'll see what their opinions are," Seitz said.
Many of Mercer County's local festivals and events include beer sales. Celina's Lake Festival considered the addition of alcohol several years ago but scrapped the idea after public backlash. Rockford's Community Days successfully added beer sales to the town's annual event last year after discussing it for a couple of years before that.