Saturday, March 10th, 2007
Rangers heading to Oxford after downing Flyers
New Knoxville in regionals for first time since 1947
By Ryan Hines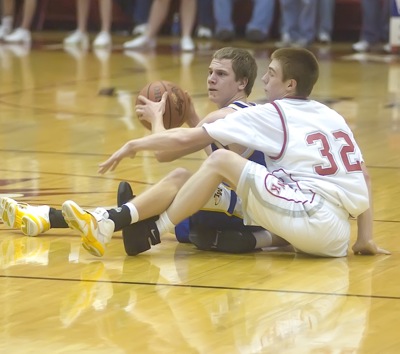 WAPAKONETA - This season just keeps getting sweeter for the New Knoxville boys basketball program.
Not only did the Rangers win the Division IV Associated Press state poll championship, but New Knoxville also ended a 60-year drought with a district title on Friday night.
New Knoxville broke open a tight game with a 12-0 run in the second quarter and then the Rangers held off Marion Local for a 50-41 victory at Wapakoneta High School.
The Division IV regional tournament at Oxford is up next for New Knoxville (24-0) as the Rangers will face Lockland, which defeated Sidney Lehman 71-65 in overtime, on Tuesday night at 6:15 p.m.
Rangers head coach Dan Hegemier was happy to help New Knoxville end the long district-title drought, all the while knowing that he had to keep pace with his brother Tim, who guided New Knoxville girls to tonight's Division IV regional championship.
"It was great to bring a district title to New Knoxville because these kids and these fans deserve it. I have to keep up the family tradition, I have to keep up with my little brother," said Dan Hegemier about his sibling Tim Hegemier. "If we wouldn't have won tonight, I would never have heard the end of it from him.
"It's hard to win district titles when you're located around schools with great tradition like St. Henry and Marion Local and schools like that," added Hegemier.
Division IV Northwest District Player of the Year Ross Stienecker, who scored just eight points in the semifinal on Tuesday, played like a star for the Rangers scoring a game-high 21 points, on 10-of-13 shooting from the field. Brad Piehl was another offensive threat in the paint for New Knoxville as the senior played his second straight strong contest with eight points off the bench after netting 13 on Tuesday versus Lima Perry.
"When we got the ball inside, we were successful," pointed out Hegemier. "Ross is a great kid that works hard and you can't be 100 percent all the time and I'm sure that he was disappointed with his performance on
Tuesday night, but I think he played good tonight.
"Brad Piehl, oh Lord have mercy, he's playing great for us," added Hegemier.
It was Stienecker that ignited the (Continued from page 16)

game-changing run in the second quarter for the Rangers scoring eight points during the 12-0 spurt that turned a three-point lead into a 30-17 advantage with under a minute to play in the first half.
"We've been winning, but we haven't been coming out strong like we should in the tournament until tonight," said Stienecker, the Midwest Athletic Conference Player of the Year. "I think that we came out strong and then controlled the tempo for most of the rest of the game."
New Knoxville's lead grew to as many as 15 points in the second half before Marion Local began to chip away in the fourth quarter.
The Rangers struggled at the free-throw line, just 9-of-22 for the game, allowing Marion Local to slowly dent the double-digit deficit.
Marion Local was unable to find a hot hand on the offensive end and it haunted the Flyers in the fourth quarter. Damon Bertke was the lone consistent offensive force for Marion Local as the senior hit on 6-of-8 field-goal attempts for a team-high 14 points. The rest of the Flyers combined for a 7-of-36 showing from the field for just 19 percent.
"We've always said that if we can defend and rebound, we'll always be right there," said Hegemier. "I thought that we defended well and we did okay on the boards."
"If there's anything that's going to give our team trouble, it's an aggressive perimeter-oriented defense. We got better through the year handling those situations, but it crept back up at times too and tonight was one of those times," said Marion Local head coach Keith Westrick. "That was my biggest worry heading into this game, was their pressure defense. They chose to extend their defense and we failed to penetrate against their defense. When we did penetrate, we were usually out of control."
Despite the frigid shooting, the Flyers got the deficit down to six points with just over a minute left on the clock, but Stienecker kept the Blue and Gold at bay with three points in the final 40 seconds to secure the win for New Knoxville.