Monday, March 12th, 2007
Record year is predicted for American farm exports
Top ag official: Farm subsidy programs need reformed
By Nancy Allen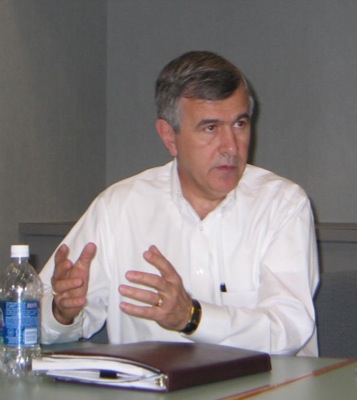 PIQUA - U.S. agriculture exports are expected to reach $78 billion this year, surpassing the 2006 record of $68.7 billion and continuing a goal to open global markets to America's farmers and ranchers, said the nation's top agriculture official Saturday.
But U.S. Department of Agriculture Secretary Mike Johanns said government programs that subsidize farmers must be reformed to keep America competitive and avoid lawsuits from the international community alleging subsidy programs break World Trade Organization (WTO) rules.
"If you tie programs to price or production, you put a bull's eye on yourself," Johanns said to the roughly 300 people attending U.S. Representative John Boehner's annual Farm Forum at Edison State Community College.
Johanns said the WTO ordered an end to some cotton subsidies as a result of Brazil winning a WTO case against the U.S. And Canada, followed by 40 other countries, recently filed a case against the U.S. corn program.
"I will go to my grave believing federal support for agriculture is a wise policy, but how we do it to protect our safety net and agriculture is the issue," Johanns said. "We can't delay this decision another five years because we need to be able to sell our products to other countries."
First and foremost, U.S. farm subsidy programs need to be reformed now because looming funding shortfalls Social Security, Medicaid and Medicare entitlement programs will always trump farm bill spending, panelists said.
"We have a $230 billion deficit and when you add in the trade deficit. It means we're in a fragile situation," said panelist Jim Weisemeyer of think-tank Informa Economics. "And 15 years from now when the 78 million baby boomers need Social Security, Medicare and Medicaid, that's when it becomes even more pressing. That's why I plead with the commodity groups to reform now."
Panelist Carl Zulauf said current farm programs are "flawed" because Congress constantly has to pass disaster programs, which Zulauf said would not be necessary if the safety net within the current farm bill was working. He asserted that farm programs should be reformed to revenue-based programs and redesigned to manage risk.
Zulauf said the solution to fix holes in existing farm programs is to base payments on farmers' gross income, instead of governmental established prices for crops. The government currently establishes support prices for most field crops. If the market price drops below that support price, then farmers receive loan deficiency payments.
Johanns and a panel of four ag experts all agreed that the demand for corn for ethanol production is driving up the price of corn and consequently the cost of livestock feed and production. The price of corn is double what it was two years ago.
Mercer County, with the largest concentration of large livestock operations in the state, is already feeling the feed pressures, local livestock producers and grain elevator operators have said.
Panelist Bryan Black, president-elect of the National Pork Producers Council went as far as to say that the U.S. pork industry is looking at reducing production by 10 to 15 percent to head off the "Juggernaut" of high feed prices, adding that it is going to "be a hardship on everyone."
Johanns said he would be able to make adjustments to a federal mandate intended to increase ethanol demand if it becomes clear the mandate was creating a hardship for livestock farmers and increasing food costs. Johanns also said administration proposals to spend $1.5 billion on research and development and twice that much on loan guarantees for cellulosic ethanol is designed to push ethanol that does not come from corn. Cellulosic ethanol can be produced from a wide variety of cellulosic biomass feedstocks including agricultural plant wastes such as corn stalks, cereal straws, sugarcane, sawdust and paper pulp and switchgrass.
Others on Saturday's panel were skeptical about the feasibility of cellulosic ethanol any time soon, saying the technology is years away.
"Even if the technology were available tomorrow, we're still at least two decades away from having the correct infrastructure necessary to produce ethanol from cellulosic stuff like switchgrass," said panelist Dave Juday, a senior analyst with World Perspectives, Inc.
Speaking to a question from a crowd member about whether the administration will attempt any real immigration reform, Johanns would only say he does not "believe it is good policy to not solve the problem," noting that 30 percent of all input costs for specialty crops growers is for labor and 10 percent of all agricultural costs is labor.
Many specialty crop growers and large dairy operations rely on immigrant labor and immigrant workers abound in all parts of the meat packing, food preparation and restaurant industries, Juday said.
"I don't think the mainstream commodity groups (versus specialty crop growers) have thought this through and realized this is their issue too," Juday said.
Weisemeyer agreed with Juday and said Congress likely will draft a new farm bill before an immigration reform bill.
"Every 35 seconds an immigrant comes into the U.S. legally or illegally and every seven seconds a child is born (to immigrants)," Weisemeyer said. "Combine those two groups and 50 percent are Hispanic. Don't think this isn't going to change the country."
Johanns proposals for the 2007 Farm Bill include:
• Spending $10 billion less than the current Farm Bill
• Increasing spending for specialty crops and conservation programs by $7.8 billion
• Increasing spending for beginning farmers by 20 percent
• A 10 percent increase in payments for conservation programs that pay farmers to take agricultural land out of production, if producers agree to forgo direct countercyclical and loan deficiency payments.
• Adding $500 million to the Conservation Security Program (CSP), a new program that pays farmers for conservation practices they are already doing on their land, versus paying them ahead to implement practices like typical conservation programs do.