Wednesday, March 14th, 2007
Rangers dominate fourth quarter
By Ryan Hines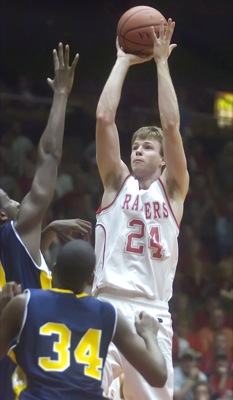 OXFORD - Lockland had a chance to pull the biggest upset of the tournament in the Division IV regional semifinal contest on Tuesday night at Oxford.
The Panthers held a two-point lead entering the fourth quarter, but the top-ranked and undefeated New Knoxville Rangers rallied in a big way in the final eight minutes of play.
New Knoxville erased the two-point deficit in a hurry outscoring Lockland by 15 points in the final stanza for a 51-38 victory.
The Rangers (25-0) will now face Georgetown (25-0) on Friday night at 7:30 p.m., back at Oxford with a trip to Columbus for the state tournament on the line. Georgetown beat Houston, 54-44, in the other regional semifinal at Millett Hall.
Less than a minute into the fourth quarter, New Knoxville regained the lead on a three-pointer from Josh Niemeyer and teammate Ross Stienecker then added three points before Niemeyer connected for a deuce giving the Rangers a 40-34 lead with 4:43 left in the contest.
Lockland, which had won 12 in a row, aided New Knoxville's early fourth-quarter run with a trio of turnovers to go along with questionable shot selection. Three-point hoists by Thomas Smith and Antoine Wilhite were not the answer that Andrews was looking for as New Knoxville started to make its run since the Panthers finished the game 0-of-12 from beyond the three-point arc.
"We didn't have an outside game at all tonight and when they (New Knoxville) got up by three points then we had a few turnovers and then we had a couple of bad shots that we took," said Lockland head coach Paul Andrews. "We couldn't hit an outside shot and they just packed in four or five guys in the post and dared us to keep shooting from the outside. We became a one-dimensional team and they just sat back in their zone."
"We had a little bit of trouble when we started in our man-to-man, but we switched to a zone and I think that it was effective," said New Knoxville head coach Dan Hegemier.
Wilhite ended the 8-0 spurt by New Knoxville with a deuce for Lockland, but the Rangers then outscored the Panthers 11-2 in the final 2:50 of play to grab the 13-point win. Brad Piehl got loose in the paint for four points and Stienecker added four more points during the decisive late fourth-quarter run.
"We got a couple of big shots from Josh Niemeyer and then Ross Stienecker played another strong game inside for us," said Hegemier. "Ross is a strong young man that has a quick first step in any direction and finishes when he gets to the basket."
Lockland never could find an answer for defending Stienecker, the northwest district D-IV Player of the Year. The New Knoxville senior controlled the post scoring 19 points and added eight rebounds.
"We knew what he was going to do and we still couldn't stop him," said Andrews. "When we fouled him, then he went to the free-throw line and hit those too (Stienecker was 5-of-6 at charity stripe)."
Niemeyer joined Stienecker in double figures for New Knoxville, which shot 21-of-38 in the game (55 percent), with 12 points while Marcus Henschen added nine markers.
Jamelle Smith led Lockland with 15 points while Wilhite added 13.